Children are the latest victims of the scourge of obesity. Thanks to the sedentary lifestyle, junk foods and crazy study schedules they are not able to expend the calories they consume, hence they grow obese at an age they should be lean and active. A person is considered obese if he/she weighs 20% or more than his ideal body weight.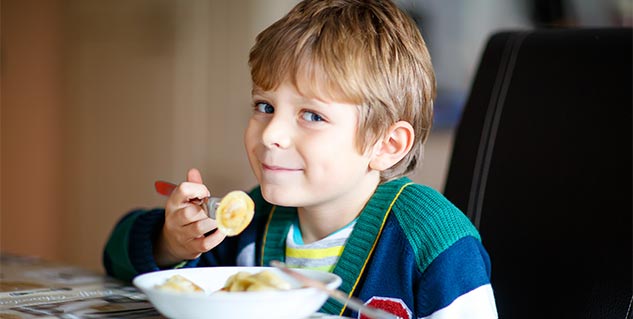 The ideal body weight is calculated in the following way
4.5kg is the ideal body weight for every 5inches of height. 2.3kg is added to 4.5kg for every 1 inch. Due to erratic study schedules, children tend to either overeat at one meal, which is mostly dinner or skip their meals and even keeping long gaps in-between meals. Most children also skip their breakfast. These habits result in day-long feelings of laziness and weakness, affecting their mental and physical health thereby lowering the metabolic rate. Thus children should have their proper four meals in a day. It's a misconception that obese people tend to eat more, but this is not always true. Obesity can also be to lack of required energy expenditure in comparison to the calorie intake. Children should therefore be encouraged to increase their overall level of exercise.
Here are a few guidelines for obesity management among children.
A proper breakfast gives a good start to the day. Thus children should have something or the other with the morning milk.
Water intake should be around 10-12 glasses in a day.
Too much intake of junk food should be avoided as they have poor fibre content. Children should have more of fruits, vegetables and salads which provide more fibre and roughage to the body.
Fresh juices are always better than canned juices. Malted and carbonated beverages, sugar-free drinks like diet cokes etc. should be avoided.
One should select one source of carbohydrates, like-roti, rice, noodles, etc., and one source of proteins, like-dal, soya, paneer, at one meal which helps in maintaining the weight.
Heavy starchy foods lead to fat deposition in the body or even starvation results in hormonal changes that can lead to problems like poly-cystic-ovaries (PCOD'S) and calcium loss amongst girls, affecting their reproductive health.
Intake of milk and milk products should be there regularly in the diet of the children.
Intake of citrus foods like oranges, guava, lemon, melon, amla, cabbage, capsicum, grapes, mint leaves, cucumberetc. should be more as vitamin C, B complex helps to maintain the vitamin levels of the body keeping the children healthy and active.
Iron-rich foods like the lotus stem, mint and mustard leaves, soybean, beetroot, banana, water melon, rice flakes, apricot, methi, etc. should be there in the diet.
High fatty foods like butter, processed cheese, chocolates, potatoes, fried food, preservative foods, cakes, puddings, pulaos, etc. should be avoided or taken in moderation.
To manage the intake of junk food amongst children parents should try to make the food more palatable, eg-if the child is bored of eating vegetables in the regular way, one can cook them in different styles like paneer potato cutlet, veg. kathi rolls, sprouted moong dal dalia, soybean tikki, veg, pancake, suji upma, bread pizza, etc. This will help the children enjoy their meals.
Parents can also fix up 2-3 days in a week when children are free to have their choice of food and on the other days, they should have proper healthy foods.
If the child suffers from stress related problems then he/she should take more of wheat bread, whole pulses, whole grains, whole cereals, etc. over other sources of carbohydrates. There should be a good intake of fibre and potassium rich foods like citrus fruits, sweet lime, fresh juice, milk, leafy vegetables etc.
Obesity leads to many other health problems that make the child more prone to the family-related or genetic medical problems which can otherwise be avoided by managing the diet. Therefore it becomes important to control the problem at the right time.
Image: Shutterstock