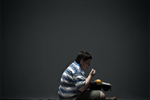 Reseachers have found that teens who are obese tend to lose up on the benefits of life expectancy rates as it exists today.
A study has found that those people who are or were overweight when they were teenagers do not experience the benefits of increased life expectancy rate compared with thier slim counterparts. One of the author's of the study said that while studying the rate of deaths among adults younger than 50 years of age, there was not a wee bit improvement among those men who were obese or overweight when they were teenagers.
The author added that the mortality rates among the overweight as well as obese teenagers in the years 2000 to 2010 remained as high as the rates that were observed in the 1960s as well as 1970s. The subjects of the study were born between the years 1950 and 1993. Each participant in the study was between the age group of 16 and 20 years when they were evaluated for their military service.
To do the study, the researchers calculated each teenager's body mass index at the time of evaluation. The study also looked thoroughly for death records to establish the mortality rates among the study population. The researchers found that the mortality rates were 41 percent lower when compared with normal weight teenagers born in the 1980s compared with teens who were of a similar weight but were born thirty years earlier.
Source: DNA
Image source: Getty Images
Read more Health News.