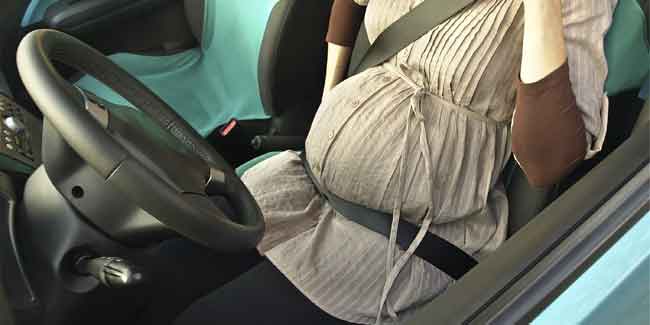 Wearing seatbelt is important during pregnancy, but you must make sure that you wear it right. Take these precautions to ensure a safe driving experience.
Wearing a seatbelt is very important and a prerequisite to ensuring that you, your baby and every traveller on the road is safe. It would be perilous if an expecting mother were to travel without wearing one.
Many pregnant women are in a fix whether to wear a seatbelt or not while travelling by car. Seatbelts are all the more important during pregnancy as two lives need protection, the mother and the baby. Ensure that your seatbelt is fastened properly to protect you and your baby from an injury. You may be worried about wearing it the proper way and if you still do not know how to, here is a guide.
How to Wear Seatbelt during Pregnancy
The foremost step is to make sure that the lap belt is placed beneath the belly, fitting low and comfortably on the hipbones.

Your seatbelt consists of two belts; one is the shoulder belt which runs from one side of the shoulder and buckles up near your waist while the other belt is a lap belt, which runs across your waist or pelvis. The lap belt should run beneath your baby bump and across your pelvis while the shoulder belt should pass over your baby bump and in between your breasts. A seatbelt should never pass over your belly as a sudden jerk may cause complications. Make sure your seatbelts are properly fit and remain snug when you wear them.

The shoulder belts should not go across your neck; this can be ensured after a few adjustments to position your seat and belt correctly. Another incorrect way of doing this would be to place the shoulder belt beneath your arms or behind the back.
Other Important Precautions
It is advised to keep the car warm from the inside if you live in a cold country. This will allow you to take off warm clothing that may lead to sliding up of seatbelts. If it happens, the risk of getting a jolt during car travel arises. Fasten the seatbelts in that case.

For additional protection, make sure that the safety airbags are turned on at all times. They are not a substitute for seatbelts though. You must wear your seatbelt always and airbags can only be a means for additional protection. Not wearing seatbelt can actually make the airbags dangerous after opening up.

Use of seatbelts during pregnancy is even more important if you are driving. You should adjust the seatbelt away from the steering wheel and dashboard and still allow your feet to reach the pedals. If you have an accident, visit your health care provider as early as possible. Even if you feel there is nothing wrong with you, why should you take risk? Make sure that nothing is wrong with you and your baby.

Read more articles on Pregnancy and Travel.