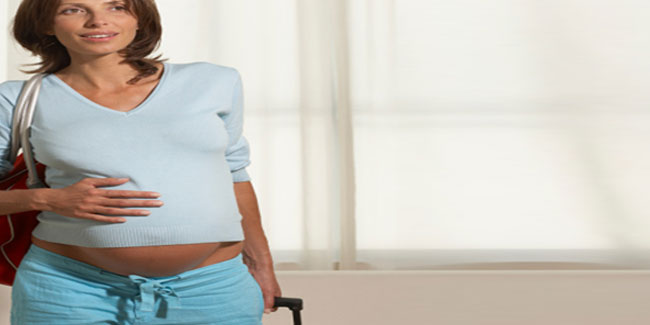 Travelling during pregnancy is a sensitive issue especially if you are already in your third trimester. Remember to take permission from your doctor when travelling during the third trimester of pregnancy.
The safest period to travel when pregnant is the second trimester. But, if you must travel in the third trimester, there is nothing much to worry about and not many problems to haunt you and your baby. Start packing, we say!
Women should keep in mind that they can travel upto 36 weeks into pregnancy but only after they have measured the precautions well before it is time to cruise away. Even though there is no problem that a woman is likely to endure in the third trimester while travelling, it is better to plan travel during the second trimester. This is because the mother has the least chance of miscarrying or experiencing stillbirth. It will be a comfortable journey and all you need to make sure it stays comfortable is prepare and awareness of what precautions to take.
Mode of Travel
If you are on a bus, make sure there are seat belts available. The same applies for cars. The idea is to minimise constant shaking. If you are in a train, it is best to carry extra blankets to sit under. These will work as shock absorbers. Airplanes are safe to travel in as long as you keep the seat belt on during turbulence. Even when inside the washroom, hold onto the handle bars to stay steady.
Premature Labour
If you are under observation for premature labour, your obstetrician is unlikely to let you travel. Being in premature labour does not mean that caesareans cannot be planned in advance. However, since your cervix is at risk of opening without contractions as well, you should not travel.
Placenta Previa
Unusually low lying placenta can cause bleeding in the third trimester. If placenta previa has taken place early it does not pose a risk to the mother. Regular ultrasounds are recommended in this case and the mother is kept under observation.
Multiples
If you are carrying twins or more babies, you should not travel when you are close to your due date. You will be more vulnerable to complications in the case of multiple births and professional help is vital during labour.
Other Health Risks
Diabetic pregnant women and those with high blood pressure are usually advised against sitting in airplanes. Also, if during your previous pregnancies you were prone to blood clots, check with the obstetrician before making travel plans.
Planning Ahead
Keep a list of all the emergency numbers handy. If possible arrange for delivery in your destination city even if you do not intend to stay there for long. Being accompanied by a prenatal chart that lists your medical history and important information may prove to be useful.
Emergency
If you happen to go into labour while travelling it is best to be not shy and ask for all the available help you can get. Your escort should be responsible enough to take you to the nearest hospital at the next destination. It also helps to know the distance between each stop in your travel. A simple search on the internet can provide you local emergency numbers of every town or village you intend to cross.


If you have any say in controlling the travel plans, try to restrict it to the second trimester because during this time, you are less prone to develop complications compared with the last trimester.
Read more articles on Pregnancy and Travel.