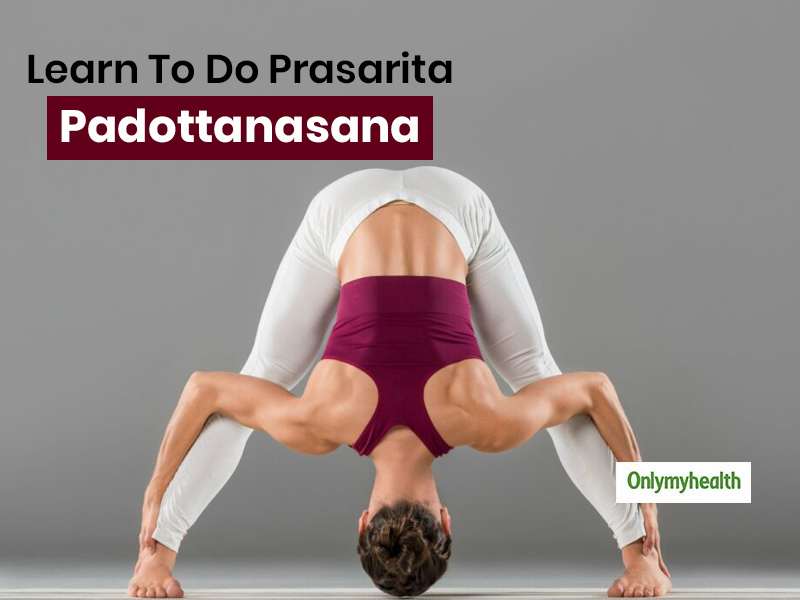 Prasarita Padottanasana is a great stretching Yoga pose that helps the body heal while stretching the muscles. Know more in this article.
Yoga can give your mind and body the relief that cannot be obtained by anything else. Yoga is a practice of enlightening the mind, body and soul. You'll feel rejuvenated from inside-out as you practice Yoga asanas daily. International Yoga Day is observed all around the world with enthusiasm and cheer. It might not be the same this year but that doesn't mean we don't celebrate this day which celebrates the art of fitness and wellbeing. We do not need any particular day to do anything. Yoga is something that should be practiced daily to make our life easy and healthy. Let us explore all about Prasarita Padottanasana which is a blend of stretching and exercising.
About Prasarita Padottanasana
Prasarita(Stretched Out) + Pada(Foot) + Uttana(Intense Stretch) + Asana(Pose) = Prasarita Padottanasana
A long name with a deep meaning. As the name suggests, this yoga asana is more focused on stretching. As we know, stretching is very important to prepare the body for the workout. Warm-up includes stretching to open up the muscles to prevent strain during exercising. Prasarita Padottanasana is best to stretch and expand the muscles after cycling, walking or running wherein your upper body isn't exercised much. It relieves muscle tension after a workout to help the body heal faster. As you perform this exercise, you'd be able to feel your body heal. It calms the hamstrings and stretches the back to improve flexibility. The surprising thing about this Yoga pose is that you are exercising yet your body is at ease and alerted. This balance is good for your health. This asana is popular as a healing therapy for anxious nerves to bring peace and harmony to your racing heart and aching body parts.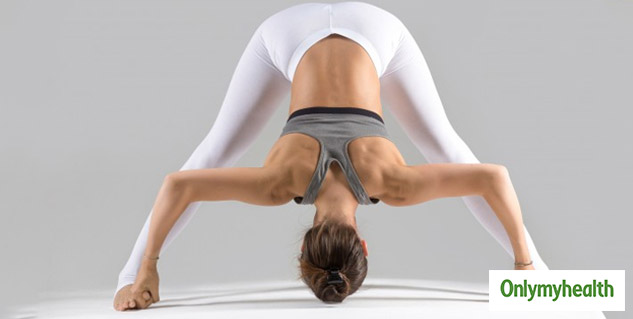 Also Read: Know Everything About Padmasana or Lotus Position
How to do the Prasarita Padottanasana Pose
Here are the steps to perfect Prasarita Padottanasana
Stand straight with your spine erect. Keep your feet at 4-5 feet distance and firm on the ground.
Take a deep breath and raise your arms overhead, straight without bending.
Now slowly bend your upper body from the hip joints forward. Keep your spine erect.
Keep your hand on the ground with palms touching the floor. Keep inhaling and exhaling.
Lifting your hips upwards and bend a little. Take your head in between the hands to bring it closer to the ground.
Keep your thighs apart.
If you can, slowly distance your feet without losing the balance. Do as much as you can. No need to force the body into doing it.
Try to touch the toes with your hands while deepening the head bend.
Slowly get back to the initial position.
Health benefits of doing Prasarita Padottanasana
Read these pointers to get to know the benefits of Prasarita Padottanasana closely:
Stretches the body from head to toe.
Strengthens the upper back, lower back and legs including calves, glutes and hamstrings
Increases the flexibility of hip joints
Lengthen and strengthens the spine
Improves strength of the feet
Improves body posture by improving flexibility
Releases stress to ward off anxiety and depression
Exercises heart while providing rest simultaneously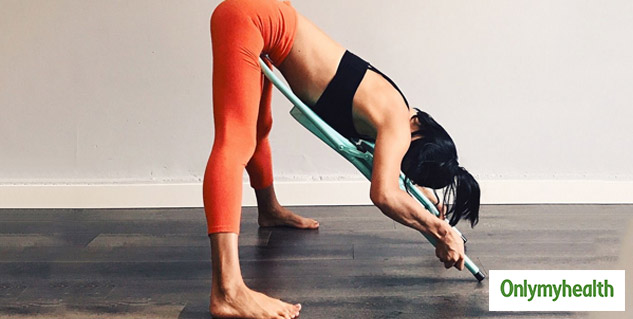 In what medical conditions one should avoid doing Prasarita Padottanasana
People who have aching back or lower body shouldn't do this exercise.
Also, those with chest congestion must not perform this one.
This asana is meant to be done on an empty stomach. Do not do after eating.
Read More Similar Articles on Yoga