Reebok released a new video featuring Kangana Ranaut to celebrate womanhood.
'Perfect combination'. Literally these are just couple of words but there are moments when some amazing things get together to make it a larger than life experience. And if you talk about celebrating womanhood; what all things do you think of? Out of all those things that came to your mind, it is very likely that women's day was one of them. The chances of anyone thinking about Women's Day, a worldwide phenomenon, in context of celebrating womanhood are very high. And so are the chances of thinking of Kangana Ranaut, the one-woman army taking on army of successful men; maybe because she has only herself to credit for her success or maybe because she is fearless and doesn't give a damn.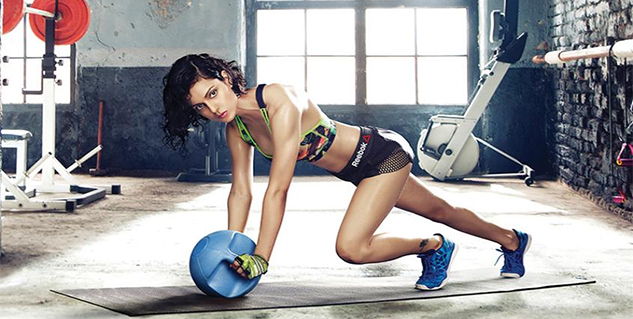 So it's actually the perfect combination when a famous fitness brand brought in Kangana Ranaut on this International Women's Day to send out an equally amazing and powerful message to all moms through its 'FitToFight' campaign. Reebok released a new video featuring Kangana Ranaut to celebrate womanhood. The fitness giant started the campaign and this year it has added a whole new dimension to the intended message. The movie, titled 'mom', starts with a powerful message from Kangana Ranaut; reminding everyone of the immeasurable strength of womanhood.


The film begins with a young girl admiring her mother's heels and exploring her mother's wardrobe. As she opens different shoe boxes she discovers a series of photographs that show her a completely different side of her mom. She sees her mom lifting heavy weights, climbing ropes, flipping tyres and training in pouring rain….showcasing another level of toughness. She gets so inspired that she chooses her Mom's Crossfit Nano shoes over the stylish heels.


And therein lies a powerful message – the choice that the little girl makes. The message is for women to become tougher, to choose the tougher path, to pick the tougher option. By ditching the heels for the trainers, the daughter shows her that is now believes that tough is also beautiful. Concluding with a call to women to share their inspiring journey, the video highlights how inspiration starts at home and that the right inspiration can motivate and impact the next generation.


Watch the video here -
March 8, 2017


Speaking about the film, Silvia Tallon, Senior Marketing Director, Reebok India, says, "Reebok believes in the power of tapping one's full potential and FitToFight celebrates each unique struggle breaking physical, social and mental barriers. "Mom" takes this spirit one step ahead with the baton being carried forward by the next generation, encouraging them to be bold and face challenges head on with will power just like their mothers. On the special occasion of International Women's Day, we stand with those countless women who have battled odds and triumphed."


The first edition of FitToFight witnessed a tremendous response from women who shared their personal life stories of struggle, determination, passion and eventual victory. The unsung women heroes were recognized at an award ceremony where the brand felicitated them with ambassador Kangana Ranaut. In its second year running, Reebok has taken its FitToFight platform to the next level and is inviting mothers and daughters to send in their stories in order to inspire many others.

Reebok will release the film on television and will invite women to share their FitToFight story with the brand.
Read more articles on Mind-Body
For more such stories, Download Onlymyhealth app