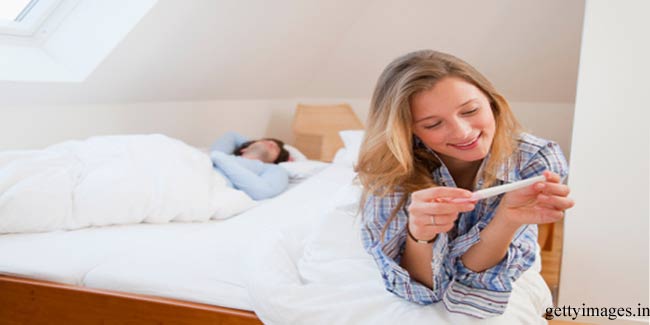 Pregnancy midstream test is a type of home pregnancy test, which detects early pregnancy and is easy to use, though it must be carried out with certain limitations.
The midstream pregnancy test is a convenient and easy method for detecting pregnancy at the earliest. Once you suspect pregnancy, perform a pregnancy midstream test immediately.
The test can be used on the day after your delayed period or approximately 8-10 days after conception. Midstream pregnancy tests are home pregnancy tests, which use a combination of monoclonal and polyclonal antibody reagents to confirm the increased HCG hormonal level in urine-an indication of pregnancy. The midstream pregnancy test kit is easy to use and carry.
How Pregnancy Midstream Test work?
The midstream test device includes monoclonal HCG coloured conjugate and polyclonal anti-HCG. The membrane test area is coated with both the reagents. When the urine sample falls on the test area, it reacts with the reagents due to which visible coloured bands appear in the test window. To detect pregnancy, there should be 20 mIU/ml or greater concentration of HCG hormone in the urine sample.
Result of Pregnancy Midstream Test
There are two lines (control line and test line) on the test device to show the result. The control line (C) always appears to indicate the proper working of the test. The test line (T) appears when the test is positive i.e. pregnancy is detected. Even a faint appearance of a line in the test (T) area is a sign of positive result. To detect pregnancy at home, midstream test is efficient, but it is advisable that a positive pregnancy result be confirmed by a gynaecologist. When the pregnancy test is negative, no line appears in the test area.


Limitation of Pregnancy Midstream Tests



Result shown by pregnancy midstream tests should not be believed entirely. To confirm the diagnosis of pregnancy, consult your medical practitioner.
Other than pregnancy, there are various conditions such as germ cell tumour, prostate cancer, breast cancer and lung cancer that lead to elevated levels of HCG hormone. Increased presence of HCG in urine sample to detect pregnancy should only be considered when there is no prevalence of other conditions.
Midstream test can also give false negative results if the levels of HCG are below the sensitivity level of the test. To confirm pregnancy, take the test again after two days from the first test. First morning urine should be used to carry out the test.

Midstream testing is easy, but you are to make sure that you read the instructions so as to carry it out successfully.
Read more articles on Pregnancy Test.