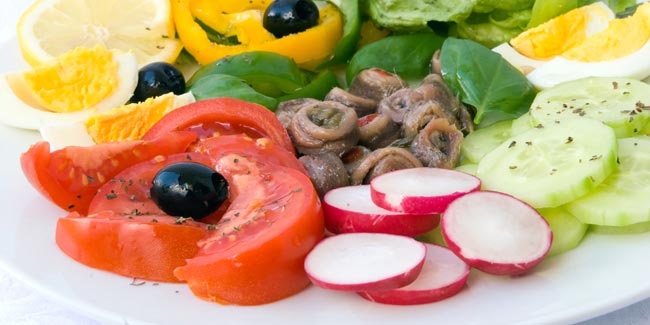 Indian cuisine mainly contains whole grains, rice, dairy, lean proteins and whole fruits and vegetable. All these are healthy foods for pregnant women.
It is very important for pregnant women to have balanced diet. During pregnancy women get several advises from friends and family members. According to some, you must start eating for two while others may suggest you to strictly go by the calorie chart. However, the best way suggested by health experts is to have a balanced diet.

Base of your diet (whole grains, rice, dairy, lean proteins and whole fruits and vegetables) remains the same during pregnancy. You just need to increase their amount. Most of the Indian cuisines focus on legumes, breads, rice, fruits and vegetables thus, giving you the required amount of essential nutrients during pregnancy. Here are some suggestions of balanced Indian diet during pregnancy:
[Read: Foods you should eat during First Trimester]
Folic Acid

Folic acid is a natural form of water soluble vitamin B. In synthetic form, it is present in enriched food and supplements. It helps to prevent pregnancy complications such as premature birth, neural-tube defect and low birth weight.
During pregnancy women need about 800 mcg of folic acid on daily basis. Half a cup of Indian spinach dishes such as palak paneer and matar paneer provide 131 mcg of folic acid.
Other good sources of folic acid are beans and dal. Both of them are largely used in Indian cuisines. By eating half a cup of beans get up to 90 mcg of folate.
Bengal gram, Chick pea, Minapa pappu, Mashkalair, Chana, Kothukadalai, Sanagalu, Black gram, Urad dal, Ulutham paruppu and Udad are some other rich sources of folate.
Iron

Iron rich diet aids production of red blood cells and keeps anaemia at bay. During pregnancy, your blood supply increase and so do your need of iron.
Eat chapattis, naan and paranthas made from fortified or whole grains.
Lean meats, green vegetables, fish, nuts, fruits gives you good supply of iron.
One cup of cooked iron gives 3.9 mg iron.
Half cup of cooked spinach gives 3.2 mg of iron.
[Read: What Not to Eat during Pregnancy]
Calcium

Calcium helps to strengthen bones of mother and the unborn baby. Pregnant women normally need 1300 mg of calcium on daily basis.
Raita (an Indian condiment) made up of curd and cucumber gives you good amount of calcium. Six ounce of yogurt provides 258 mg of calcium.
Dishes prepared from Indian farmer's cheese (paneer) are packed with calcium. Paneer can be taken either with mutter, peas or in the form of korma recipes. One ounce of paneer gives 222 mg of calcium.
Vitamins and Proteins

Fish and meat are excellent source of vitamin and proteins. If you are a non-vegetarian then take chicken, fish and meat in form of different Indian recipes. For instance, tandoori chicken is a good source of protein. However if you are a vegetarian the add asparagus to your routine curries.
Paneer dishes give 28 g of protein.
Half cup of cooked lentils provides 8.9 g of protein.
A standard for dal recipe provide 8.9 g of protein.


Read more articles on Pregnancy Diet.