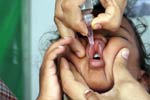 Polio cases in India have dropped as expected. In fact, the disease is on its way to be completely eradicated.
It's been three years since the last case of polio was reported. This is a landmark in the global fight against the disease. With zero cases of polio reported since the last three years, it is seen as a confirmation of one of the biggest successes in the field of public health, which has been achieved through massive immunization programmes.
What is even appalling is that in the year 2012, the World Health Organisation removed India from its list of polio-endemic countries. The countries that remain in this list include Pakistan, Nigeria and Afghanistan.

This list refers to those countries where the virus circulates freely and there has been no effort to stop the transmission of the infectious diseases. Even though there has been an overwhelming success in the effort of reducing the number of polio cases and finally eradicating it, health experts fear that there may be a resurgence of polio in other parts of the world.
Statistics show that only one case of polio was recorded in India in the year 2011, which was a direct fall from 741 cases in the year 2009. The case was of a 18 months old girl from the state of West Bengal who had contracted the disease.
Article Source: BBC News
Image Source: Getty Images
Read more Health News.