Having a nice collection does not have to cost a fortune. Be it fancy or costume, real or fake nothing can add an oomph to your wardrobe like jewellery. And why not when a simple ring, pretty necklace, sparkly earrings can bring a smile to our face and lift our look.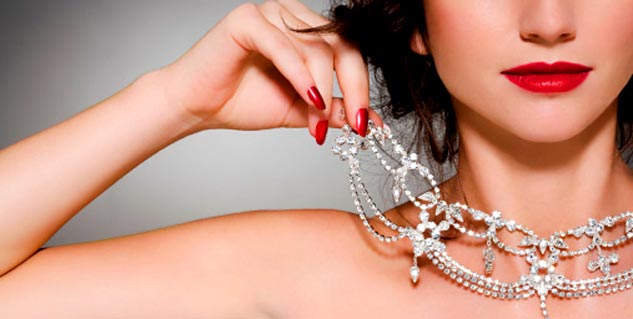 You can always use these tips to your fashion advantage of wearing fake jewellery in stylish ways.
Try a headband
Yes, headbands are back in fashion but don't limit yourself to fabric versions. Try other thin rhinestone-encrusted headbands or a circular jeweled headband to uplift your look. Alia Bhatt looked beautiful wearing one of those in 'Kapoor and sons' didn't she?
Repurpose or multipurpose a necklace
Every woman has one or two necklaces which she is not using anymore. Why not make use of them? You can always wear one of those as a hair accessory or maybe a bracelet. Just try shifting the focus to the side in order to avoid making it look like a tiara.
Go vintage
The fashion world is still obsessed with vintage and jewellery is not behind. Try finding jewellery that was made decades ago and the quality is much better than what you find now and it actually makes you look different and trendy!
Try a brooch
No matter how outdated you may consider it to be but it can enrich and enliven the most basic piece of clothing. Just pin it up to a simple saree or a gown and on you go! It adds an edge to your look. Pinning it up would give you a more feminine and classy look.
Express yourself
Yes you read it right! Wear jewellery that expresses your emotion. For a flirty and sexy look try wearing anklets and belly chains. You can wear them with any outfit be it a short dress or just with a jeans and t-shirt. Just make sure you draw attention towards it. For a more subtle look try keeping it simple with studded earrings and a small little pendant.
Add glamour with your rings
It's a very versatile piece of jewellery. You can wear it with anything and everything. From a simple band ring to a fancy one with exotic stones, there is one that suits all tastes and preferences. Try wearing only a ring in a hand and see what style it adds to your look. Also don't make the mistake of loading each finger with a ring. Try wearing just one or two and glam!
Fake jewellery has come a long way since the 60's with almost every store coming up with a range of its own. Before spending there why not ask your mothers and grandmothers if they have got anything for you! Not only will it add style to your look but also make it special for you!
Image: getty
Read more articles in Beauty & Personal Care.