Iceberg lettuce is a leafy vegetable, mostly used as salad. It doesn't taste great but adds a crunchy texture to the salad; of course, it's dense when it comes to micronutrients. So, it's no surprise that it is found in a variety of foods including a variety of burgers to wraps; sandwiches to dinner salads.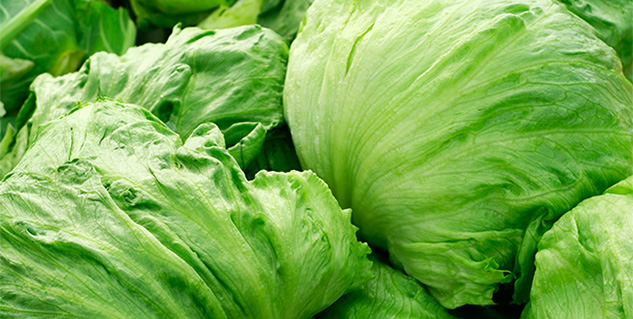 Nutrition
It is full of water and fiber, hence low on calories. But for the other, essential micro nutrients it is the best source. It is a rich source for scarce minerals like potassium, calcium, iron, and manganese. It also contains Vitamin A and Vitamin C.
Calorific value
The approximate calories iceberg of lettuce is 12 for 100gms, far too low for any food. It is also low in sodium and saturated fats.
Health benefits of the iceberg lettuce
Weight loss
Since its low in calories and high in fiber and water, it's a preferred choice for weight loss. It helps you to control carvings and keeps you fuller for a long time.
Immune system and bone health
As it is a rich source of vitamin A, it helps to build a strong immune system, besides improving the health of eyes and bones.
Prevents blood clotting
One of the main vitamins in this green vegetable is Vitamin K, which is a known to trigger the production of vitamins which prevent blood clotting.
Prevents birth defects
Iceberg is a wonderful source 0f folate. It is known that eating foods rich in folate during the pregnancy help to prevent birth defects in the child. The folate, also proved to help in fighting cancer and cardio vascular diseases.