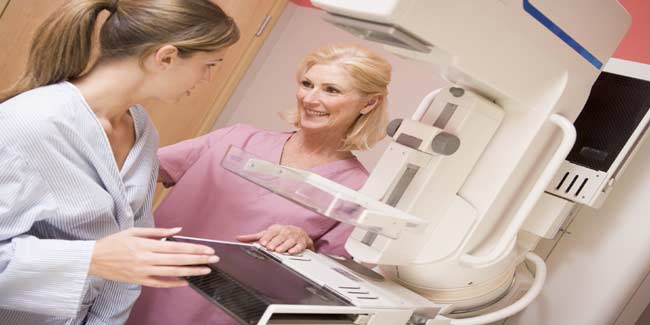 Any type of cancer if recognised at an early stage is treatable, and this is why it is very important for women to do mammogram screening in order to detect breast cancer at an early stage.
The world was a nicer place before the day when Hollywood heartthrob Angelina Jolie had to go through mastectomy. Breast cancer is a devastating experience for women, and it is important for you to identify the cancer at an early stage with the help of proper screening.
A mammogram is basically an x-ray picture of the breast, and mammography is the process. It is used to check for breast cancer in women who do not have any signs or symptoms of breast cancer. It is also used if a woman happens to have a lump or any other sign of breast cancer. By screening and mammography we mean that type of mammogram that checks a woman when she has no symptoms. One of the greatest importances of it is that it can reduce the number of deaths from breast cancer among women aged 40 to 70.

Background on Mammogram
In mammography a radiographer tells you to position one breast at a time between two small flat plates on the x ray machine. These plates will then press your breast firmly between them for a few moments in order to take the x-ray. The clear picture that is received is due to the compression, and there are two x-rays for each breast, one from the above and the other from the side.

Some women are concerned whether mammogram would hurt or not, and you should know that for most women it is a little uncomfortable. Some women also feel some pain but it usually lasts only for a few moments while you are having this x-ray taken. There are women who also complain of discomfort or soreness for a few days after going through the process.

Its Importance to Women
Experts advise you to begin screening mammography if your mother or sister had breast cancer before menopause when you hit the age of thirty and at age forty you should too whether or not you have experienced symptoms of breast cancer.

The reason why you are it is good for you to take screenings and mammograms is because it helps to detect your breast cancer early and therefore makes it possible for your condition to be treated. It can also prevent the need for any extensive treatment for advanced cancers and also improve the chances of breast conversation. It is therefore very important for women to receive mammograms annually starting at the age of 40. Once again, we would like to repeat that the tests should be taken even if there are no signs of breast cancer and you do not have any family history.

It has been found that some women are pretty reluctant to have screenings and mammograms taken because they are concerned about the radiation exposure. With advancements in medical technology mammography has also taken leap forward. Moreover the small risk of radiation exposure during screening gets completely overshadowed when you see that it benefits women largely.
Read more articles on Mammography.