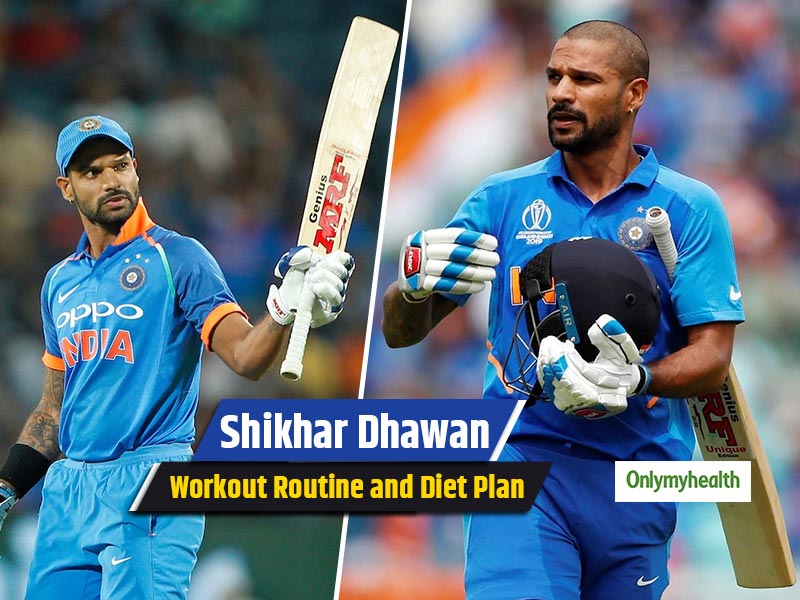 Shikhar Dhawan is well known for his workout routines and great physique. His perfect body will definitely inspire you to hit the gym and work hard. Know his workout routine and diet plan.
ICC World Cup 2019 is in full swing. After two continuous wins team, India is making it's game strong for the future matches. In the last match, India performed really well and won by 36 runs against Australia. Especially in yesterday's match, Shikhar Dhawan played a remarkable innings of 117 runs. After winning the match Dhawan posted a picture on Instagram and captioned the picture - Saara Oval mujhe Gabbar ke naam se jaanta hai.
Fitness plays a vital role behind a player's great performance. Shikhar Dhawan is also well known for his workout routines and great physique. His perfect body will definitely inspire you to hit the gym and work hard. Dhawan works really hard to maintain his fitness level. To achieve that level of fitness you need to be very patient and punctual. here are some the Shikhar Dhawan's fitness secrets which you definitely want to know.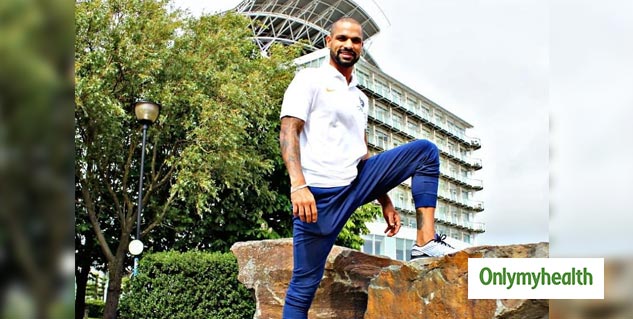 Shikhar Dhawan workout regimen
Shikhar Dhawan indulges himself in 2-3 heavy gym sessions in a week. He also involves 1-2 sessions of cardio sessions in his regimen. The activities that Dhawan performs throughout the day also involves movement throughout the day. He attends the gym 5 times a week which includes weight training for three days and cardio for the rest two days.
In an interview, Dhawan revealed that he warms up for at least 30 minutes before the actual workout which includes glute exercises, mobility training, stretching and many more. Dhawan also added that glute exercises are quite boring for him. He enjoys muscle building exercises more.
Also read: Shikhar Dhawan, Virat Kohli, all Swear by Yoga for Endurance. Here's how Yoga and Cricket Go Hand-In-Hand
View this post on Instagram
Shikhar Dhawan enjoys yoga
Yoga is extremely good for one's health. Shikhar Dhawan also loves yoga. He believes that one should perform yoga asanas on daily basis. Shikhar Dhawan usually starts his yoga session with breathing exercises. This gives strength to his body and gives him the required peace. After breathing exercises Shikhar Dhawan performs Surya Namaskar which helps in improving the flexibility of the body. This also prepares his complete body for the workout.
View this post on Instagram
Shikhar loves running
Shikhar Dhawan also mentioned that he loves running exercises. Running will improve the blood circulation inside your body. You should run or jog for at least 30 minutes before performing exercises.
Also read: World Cup 2019: Here Are Tips To Be Healthy In 'Bleed Blue's' Season
View this post on Instagram
Shikhar Dhawan's diet
Shikhar Dhawan believes in following a balanced diet which includes an optimum amount of all the nutrients including protein, carbohydrates and fats. Dhawan involves a lot of vegetables and seasonal fruits to his diet which provides him essential nutrients and antioxidants. Shikhar Dhawan also enjoys grilled chicken, potato and fish, broccoli and other vegetables
Not just fruits and vegetables Shikhar Dhawan also prefers aloo-prathas, dosa and chicken curry.
"I train a lot, so I burn all the calories and also keep my skin's pores in check. People have a misconception that sportsmen need a protein-heavy diet. I believe carbohydrates are necessary to boost energy," Dhawan said in an interview.
Read more articles on Exercise and Fitness.