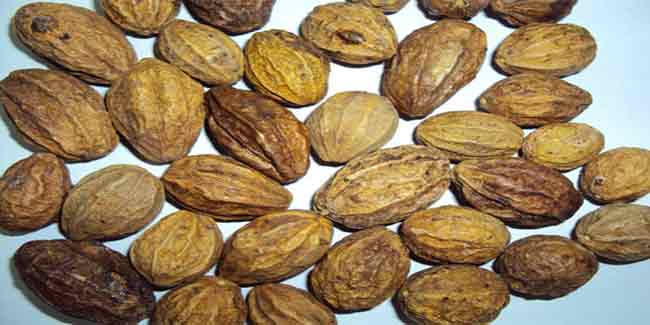 Harad for Weight Loss: In 14th century, another eminent scholar described seven varieties of Chebulic myrobalan. It is mentioned that even the smell of Chebulic will cleanse the body and in the process it helps with weight loss.
Losing weight can be a daunting task. With different kinds of workout regimes and diets out there, it becomes quite difficult to stick to one kind and see results. But you don't have to worry if you have not been seeing results despite all your effort. Here is a natural tip to help shed those kilos – hartaki, harad or chebulic myrobalan and honey.




Harad or hartaki is an Ayurvedic herb that is a part of triphla churana and is known to have a number of health benefits. Harad helps balance all your doshas, clean out your stomach and improve digestion. Ayurvedic texts state that this herb also helps improve assimilation of the nutrients that you eat, making you healthy. This herb helps get rid of ama (the sticky waste-product of digestion) from your bowels, detoxifies your body (especially your stomach), thereby aiding in weight loss.
Health Benefits of Harad
Badi Harad (Terminalia chebula) is an herb native to India, predominantly in Himachal pardesh, West Bengal and Assam. The fruits of harad have many medicinal properties which includes:
It maintains any vitiation in the tridosa (vata, pitta and kapha).
It has anti-inflammatory and analgesic properties.
Stimulates the health of nervous system
It is extremely beneficial for eyes.
Harad has anti-helmintic, aphrodisiac and antipyretic properties.
It stimulates the function of liver and enhances the digestive system.
A study published in the journal Chemico-Biological Interactions found that it has a compound called gallic acid that helps reduce your HDL and LDL cholesterol levels and increases plasma insulin in your blood.
How to Use It
Take about three to six grams of harad powder and boil it in water. You can buy this powder at any Ayurvedic store.
Once the water comes to a rolling boil, decant the solution.
Add one teaspoon of honey to the mix.
Have this mixture every morning, preferably on an empty stomach.

It has been said in ancient books that even the smell of Chebulic will have a laxative effect and helps with constipation relief via cleansing the body and in the process it helps with weight loss. So, with such bold claims, you might want to add harad to your means of getting fitter.

Image Source: Getty/ http://pimg.tradeindia.com/00460975/b/3/Terminalia-Chebula-Yellow.jpg

Read more articles on Herbs.