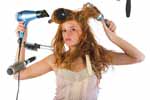 The right pair of hair accessory can help you pull off the right mood and look. Get those super trendy hair accessories out of your treasure box and sport them right away!
Most people neglect their hair thinking it to be an area where fashion and styling involves a lot of time and some professional touch. Here is an easy guide on how you can use hair accessories on your own. Hair accessories can really add that zing to a dull boring hair-do. If you have tonnes of those hair clips, bands, bandanas, scarves and none of them work for your hair, read on to know more on using hair accessories effectively.
Tie your hairt straight or braid it up, beads can really make one look trendy. If you have those Maggie curls, then beads is the thing for you. Hook those beads in your hair at equal gaps but in an interesting arrangement so that your hair does not look too full of them. Use them sparsely and see how your lifeless dull grey sweater looks funky. Beads have always been in fashion. Another interesting way is to wear just one bead on your flick that comes on your eye.
If you are wondering what to do with those boxful of colourful rubber-bands you have, team two rubber-bands of different colours to tie your ponytail. Pink and black, purple and black or a simple white and lime green rubber band combination can add that interesting touch to your getup. It is time we know that fashion is all about detailing and not simply blindly copying the trends!
Winter caps, bowler hats and knitted mufflers and croche hair clips can actually make you look like a diva this season. Croche hair clips is a cool fashion hair accessory but you can interestingly and innovatively use it as a broach on your sweater! Apart from that, team up those knitted skull caps in contrast to your sweater and which is matching with your belt or your boots. Rest assured, some heads are surely going to turn.
In order to use your hair accessories to the fullest, never go with the style you do not believe in or cannot carry it properly. This may make you look funny and bloopy.
Never put too many things on your hair. For example, tying beads and wearing a knitted hat can kill the look. But at the same time, putting a tic-tac clip with beads can easily pass off as a fashion stunt!
If you are feeling all limpy about getting the right hair do, check your drawers or hit the nearest store for those stylish bun pins. Brassbun pins, silver ones with a flower hanging on one end can work wonders with your georgette. If you are wearing silk, then a silver bun pin is a must-have hair accessory to tem it up with that breathtaking raw silk saree of yours.

Now flaunt those hot pinks and lime green clips to the fullest!