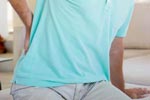 By limiting indulgence in high-impact activities and taking help of certain pain management techniques, you can easily treat lower back pain at home i.e. without seeking medical treatment.
Lower back pain is a common problem that usually happens due to improper postures, lifting heavy objects, wearing high heels, overstressing and obesity. Even sitting in a similar position for long hours can lead to lower backache. Lower back pain usually subsides on its own within a few weeks without the support of medical treatment. To manage back pain at home, resort to some effective home treatments.
[Read: Overlooked Remedies for Lower Back Pain]

Restrain pain causing activities/movements
There are certain movements such as lifting heavy objects, bending or climbing stairs that cause more discomfort to the lower back pain than others, increasing your woes and delaying the healing process.
Wrong sleeping positions may also aggravate lower backache, so never sleep on your stomach, but try to lie straight on the bed while sleeping. Place a pillow between your knees when sleeping on your side.
[Read: Correct Postures to avoid Back Pain]
When you sit on a chair, provide extra support to your back by placing a cushion or a rolled-up towel behind the back. Do not sit with your legs pulled straight; they should be bent from the knees and hips.
Do not drive for long hours. If you must travel a lot, keep changing your sitting position after every 15 minutes.
[Read: Dealing with back pain while driving]
Take Hot water Bag Massage

Massage therapy eases back pain to a great extent and reduces inflammation. Take hot water bath or shower to relieve nibbling pain in the lower back. This will relax muscle stiffness and have a calming effect on your aching back. For better results, apply hot water bag on your hurting back. Place it for 20 minutes twice in a day. Ensure that the water isn't too hot or it may leave burns on your skin.
[Read: How to Reduce Back Pain]
Do not stay immobile

To bring relief to your condition, take rest but only in the initial days of the pain or injury. Remaining immobile and lying on bed for prolonged hours may cause muscle stiffness, elevating lower back trouble. Doctors advise rest for the first two days after injury or pain, but after that, you must make efforts to return to the normal routine starting with low-impact activities.


Get a helping hand for your household chores

If pain has started hindering day-to-day routine, get someone to help you carry the household chores out. Take a backseat in physical tasks and let your spouse handle them. Divide your daily tasks among family members or employ a maid. You may do low-impact tasks such as supervising household chores.
Consult an orthopaedic or a physiotherapist if your lower back pack continues to trouble you despite of trying these home treatments.
Read more articles on Back Pain.