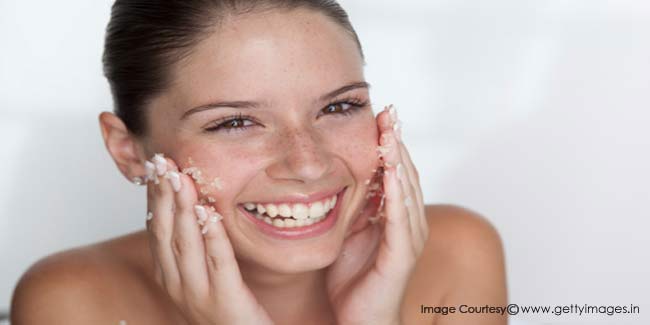 Take a look at some easy and natural homemade scrubs for removing sun tan and soothing the affected skin.
While you step out in the sun all dolled up in shorts, spaghetti top and flip flops, your skin has to pay for the fun you had. Alas! The exposed body parts get tanned. But do not worry, we bring for you some homemade scrubs to remove tan- they are affordable (no doubt) and convenient to prepare (yippee!).


Scrubs help you shed the dead skin cells and ensures tan removal from skin. One mistake that most of us make is to rub the scrub hard over our skin thinking it will remove all the tan in one go. Sorry my friends, it doesn't work like that. You will only end up damaging your skin. Use a mild scrub with soft granules and rub it gently over the tanned areas. Now that I have cautioned you against over-rubbing, let me open my secret bowl and tell you a few homemade scrubs to remove tan.

Lemon
Our very own skin friendly lemon contains citric acid which breaks dead cells off the skin. Cut a thin slice of lemon and rub it over the tanned areas for two to three minutes, leave for 10 minutes over the skin and wash it off.

Curd and Turmeric
Curd is also acidic in nature, just like lemon. Mix a bowl of chilled curd with a pinch of turmeric powder and apply on the tanned skin. Wash off with cold water after 30 minutes. While curd helps cutting off tan, turmeric will leave your skin clear and glowing.

Potato Juice
Another over-the-kitchen-shelf product that can help you get rid of tan is potato juice. Good if you apply potato juice over the tanned area, better if you apply potato directly. For better results, add a few lemon drops to potato juice. Apply the mixture on the affected areas with a cotton ball leave it for about 15 minutes before washing it off.

Sugar and Glycerine
Sugar granules act as an effective scrub and glycerine is known for its skin softening properties. Mix a few drops of glycerine in ½ cup of sugar and ¼ cup of lemon juice. Use as much is required and refrigerate the left over. It would not spoil. Lemon juice works two ways- removes tan and lightens the skin.

Oats and Buttermilk
Make a paste with ground oats powder and buttermilk. Apply this paste on the affected area. Wash off after 20 minutes. Oats work as exfoliating agents for the skin by opening the blocked pores.

Milk powder and Honey
Prepare the paste with milk powder, almond oil, lemon juice and honey. Apply this paste on the sun tanned area of your skin. Wash after 10- 20minutes. You can use it up to 10 days after refrigeration.

Use these homemade scrubs and let your tan-free skin do bhangra with glee. However, prevention is better than cure. Following the mantra, wear sunscreen before stepping out in the sun.
Read more articles on Tanning.