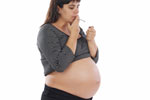 How to Quit Smoking during Pregnancy? When it comes to smoking cessation, choice of methods is limited for a pregnant mother as she cannot expose her baby to medications. This article brings to you some ways to quit smoking during pregnancy.
Giving up smoking is never easy. However, in the case of pregnant mothers it becomes more a matter of responsibility than choice. Pregnant mothers who smoke have a thinner placenta which is more susceptible to abruption, thus leading to a caesarean section birth. Moreover, stillbirths, low body weight, SIDS (sudden infant death syndrome) are more likely in babies with smoker mothers. Though giving up smoking during pregnancy is not easy, it can be achieved successfully. The choice of methods is limited for a pregnant mother as she cannot expose her baby to medications.


How to quit smoking during pregnancy
Remind yourself of the reasons to quit smoking constantly. It is never easy to give up an addiction. But it is necessary to keep reminding yourself of the dangers of not giving up. Put up a little note on your fridge or the mirror citing the dangers. Whenever you get an urge, have a look at it.
Set a date – Most successful quitters set a giving up date and make it public. That way everyone knows about it and you are more conscious of it.
On the 'quit' day, throw away your cigarettes, ashtrays and lighters. Light a camphor lamp for a calming effect to help you quit smoking during pregnancy.
Plan ahead for cravings – On an average, the cravings last for two to three minutes. You can plan ahead by keeping gums or some other snacks handy. Some even go for a walk to curb the craving by distracting themselves.
Whenever you feel the urge, gargle with a minty toothpaste or brush your teeth. Fresh breath takes the mind off smoking.
Gather support from people around you – Support from family and friends can be immensely helpful. If friends or family members smoke, ask them to resist in front of you. Besides, it is very helpful if your partner gives up smoking with you. Many NGOs have support programmes which can help you quit smoking.
Talk to your doctor – Have a heart-to-heart talk with your doctor. He will inform you about the most effective way to help you quit smoking during pregnancy. He will also be your supporter and offer the much needed words of encouragement.
Use Nicotine Replacement Therapy – Use of nicotine gums and patches may provide help. However, till date, the efficacy of NRT has not been fully established. So, it is advisable to avoid their use.
Neuro Linguistic programme (NLP) or hypnotherapy – Being a kind of hypnotherapy, it is totally chemical free. A specially designed programmed recording, the NLP has been found quite effective in helping women to quit smoking during pregnancy.
Different women may follow different methods to quit smoking during pregnancy, but a few common techniques do help. You have to just tell yourself that giving up smoking has never been more important. Quit at the earliest to avert potential complications for yourself and your baby.
Read more articles on During Pregnancy