Homemade colours are harmless and cause no side-effects. They are eco-friendly and have numerous therapeutic properties also.
Natural or herbal colours prepared at home are always considered safe as compared to colours available in markets. These colours are made up of fruits, vegetables, flower and cereals with no chemicals in it.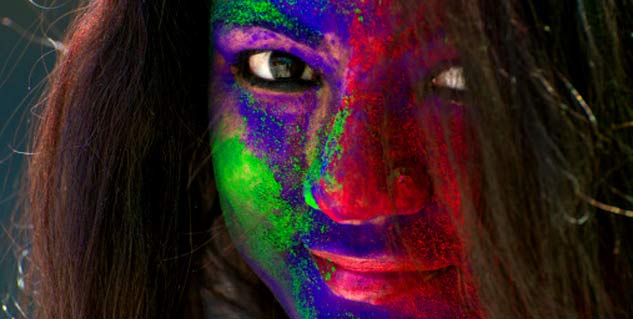 Different home ingredients are used to make different Holi colours. Some are enlisted below.
Red
Dry Colour
Red Sandal Wood powder can be used as red dry colour in holi. Sandalwood has so many good effects on skin and is even used in packs also.
Hibiscus flowers are dried and powdered to be used as dry colour. Flours can be mixed with them to increase their quantity.

Wet Colour
2 spoons of sandal wood powder are mixed in a litre of water. It is boiled and diluted to be used in holi.
Red pomegranates are peeled and boiled in water to get that red colour.
Mix 2 spoons of turmeric powder and a little lime powder or drops of lemon juice in water. Dilute it and the mixture is ready to use.
Green

Dry Colour
Mehendi or henna powder mixed with flours can be used as a substitute for green colours obtained from shops.
Leaves of spinach, coriander, mint and other green leafy vegetables are grind to paste and dried to obtain dry green colour.
Dried leaves of gulmohar and wheat tree can also be used as green colour.
Wet Colour
Dry henna powder dissolved in water is used as green wet colour.
Yellow
Dry Colour
When 2 spoons of turmeric is mixed with 4 spoons of besan (gram flour), it lends a beautiful yellow colour.
Flowers such as Amltas, Chrysenthimum and Marigold give different shades of yellow colour. These flowers are dried and powdered to use asa colour for holi.
Dry and powder the outer coat of Bhel to get the yellow colour.
Wet Colour
Mix turmeric powder in water to get a brilliant yellow colour.
Make powder of the Amaltas and Marigold flowers and mix them in water to get yellow holi colour.
Blue

Dry Colour
The flowers of Jacaranda are dried and powdered to get blue holi colour.
Similarly blue Hibiscus can be used to obtain blue colour.
Wet Colour
Berries of Indigo tree are crushed and mixed with water to get a brilliant blue colour.
Leaves of Indigo tree when boiled yield a beautiful blue colour.
Magenta
Beet root is dried and powdered to get a beautiful magenta colour.
Boil the peels of onion in half litre of water to obtain a light magenta colour.
All these colours are homemade and do not show any side effects.
Read more articles on Festival Fever.