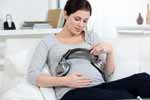 Music heals the soul, goes beyond borders and paves new ways. So, if you want to connect to your unborn child, what better way than music! Here's how you can make your unborn child listen to music.
It is overwhelming how music can connect with people; it is the single most effective language that allows a Frederic Chopin classic like Nocturne to be listened to and appreciated by all. If you would like to connect with your unborn child developing in your womb, you can do so by playing music to it. A child in the womb responds to sound, especially the mother's voice and therefore, playing music for it while it is still in the womb can be an effective bonding technique.
[Read: How to Increase Baby's IQ in the Womb]
Choose the Music: The first step is of course to select the perfect music for you and your unborn child. You may want to select any music of your choice, however, it is advised that you select tasteful classical music. Whether it is Indian classical by Ravi Shankar, Ustad Villayat Khan or German composer George Frederic Handel's Sarabande, classical music is the base of all modern music. It is soothing, vibrant and provokes human emotions like nothing else. After all, Ludwig Van Beethoven composed western classical masterpiece, the 9th Symphony when he was almost deaf. Classics are the epitome of music and you would want your unborn child to be accustomed to them, however, bring in diversity from time to time.
[Read: Can Loud Noises Hurt your Unborn?]
How to Play it: Play the CD in a portable player or if you are have access to modern technology, get your music player i.e. an IPod, mobile phone and sundry, ready with head phones. Expand the headphones in accordance with the size of your belly and place it on each side of your stomach with the band stretched over the top. Press play and adjust the volume, which need not be very high because sound gets amplified through the amniotic fluid. It is also important that you are in a relaxed state of mind when making your baby listen to music. Do not move about; sit still or lie down in a comfortable position. You may even opt to play it on a stereo for you and the baby.
The Benefits: Mothers who use this method of connecting with their unborn children say that it allows their children to develop mentally and be ready for the outside world. A study said that children who were exposed to classical music in the womb are more apt to have more positive physical and mental development after birth. The study exposed fetuses to 70 hours of classical music during the last few weeks of pregnancy. Moreover, music will soothe your baby and encourage it to move.
Someday when your baby will grow up to be a man, and will overhear someone play Franz Liszt Liebestraum (Love Dream), he will stop remembering a faint life somewhere, sometime, unsure of it. To his unknown mind he will remember you, the woman who loved him for the very first time, his mother.
Read more articles on During Pregnancy