Are you afraid that your oily face won't let make-up last for more than a few hours? Fret not! You can easily keep your make-up intact if you follow the basics.
Just because you have oily skin, you don't have to ditch make-up completely. Make-up is rather favourable for oily skin compared with it on other types of skin. In fact, it is easier to apply beauty products on oily skin as it stays naturally moisturised.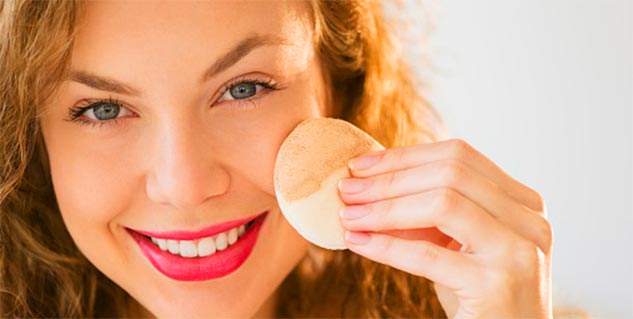 Owing to the tendency of oily skin to shine, slip and melt away the make-up, make-up artists suggest taking precautions while putting it on.
Use a moisturiser
Use an oil-free or gel based moisturiser for oily skin with an SPF value of at least 15 to protect your skin from sun damage. A moisturiser with anti-wrinkle properties keeps skin moisturised.
Don't overdo powder
To control the extra oil on the skin, powder may be used. Make sure you don't overdo it as it may stimulate your pores and make them release more oil. Therefore, the trick is to apply powder only on the areas that are shiny or greasy.
Primer before makeup
Primer helps the make-up to stay. So, it becomes crucial to apply it before make-up on oily skin. Apply an oil-free and anti-shine primer on the oiliest areas of the skin.
Blotting papers
Those with oily complexion may use blotting paper to remove extra oil from their skin. Rather than rubbing the paper on the oily areas, press the paper and roll it off.
Use oil-free beauty products
There is no point in using beauty products that contain oil on an already oil-laden skin. Always make sure that you use oil-free make-up products so that your pores are not clogged. In order to cut on oil, face cleansers and toners containing glycolic acids should be used.
Exfoliate
You must do this at least twice a week to remove dead skin and excess oil from the face. Use a cleanser that contains slightly abrasive ingredients. A sponge cloth should be used in a circular motion to clean the skin. After exfoliating, wash your face with cold water.
Clay-based face masks to reduce oil
A clay-based facial mask can be used for removal of excess oil from the face. Kaolin and bentonite clay are considered best treatment masks for oily skin, which absorb oil and impurities without causing irritation.
In simple terms, it is about learning what is right and what isn't for your skin type when it comes to make-up. It is important to prepare your skin before putting on any kind of make-up (by cleansing, toning and moisturising with apt products regularly).
Image: Getty
Read more articles on Face Make-up.