Wedding season is here with thousands of nuptial knots tied every day. Eagerly waiting for your special day but also worried about the haldi ceremony? Well, it is a common concern among the brides who have acne prone skin as haldi ceremony may leave some unwanted pimples on their faces. While having an oily skin has its own pros and cons, quality of the haldi you use also has a lot of say. Here is how you can make a haldi paste if your skin is acne prone.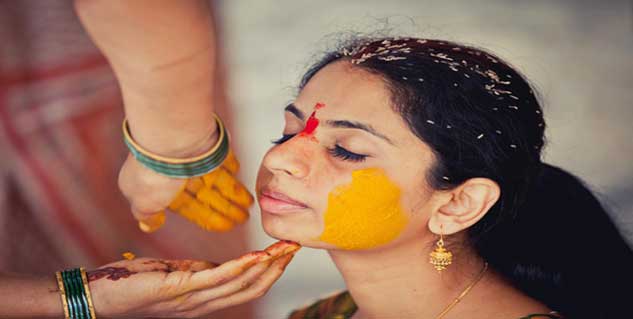 Following is everything you may need to make your own haldi paste for your ceremony. You will need...
A teaspoon of haldi
2 teapsoon of green gram powder
10 tulsi leaves
10 mint leaves
½ cucumber
The DIY recipe to prepare the paste
Add 2 teapsoon of green gram powder to haldi powder. Grate ½ cucumber, 10 leaves of mint and tulsi and add the grated paste to the mixture. Wash off your face with lukewarm water after 10 minutes. If you want to use this paste for your haldi ceremony, you will need to make more of it, so that you have enough paste to apply on your face, hands and legs.


Using this paste as a substitute to haldi in your haldi ceremony will not only help prevent acne but will also give you a natural glow.
Image Source: Getty
Read more articles on Skin basics