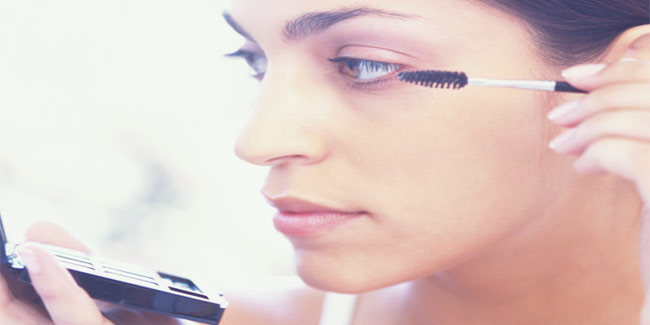 In your attempt to look younger, the aim must be to look sober and not shiny or glittery. For all of you looking for a magic potion for your ageing woes, here is one: make-up.
There is a hint of Oscar Wilde's Dorian Gray in all of us; we would like to preserve our beauty, our age and our lives. This narcissist sentiment has given rise to the modern fixation of looking younger, and men and women beat their heads in fancy cosmetic stores to look for a magic serum.That magic serum which would make them look younger if not keep their age intact.
For all those who are frantically searching for ways to look younger, here is how you can go about it with the help of makeup. Then again make ups are not a man's deal, and so this would be specifically inclined towards women who want to look younger.


Liquid Concealer
With age, the need to conceal rises, but then again concealer can draw attention to lines and crepiness on your skin. Therefore, you would want a product that will hide the redness and circles without allowing it to get cakey. This means that you should opt for a liquid cover up in a click pen; this is because anything that comes in a pan has a wax base and will therefore look waxy on the skin.

A Yellowish Foundation
By yellow we do not mean a bright yellow colour, we are just saying that it should be 'yellowish'. Why yellowish? Because yellow warms up the skin very well, and hence the warmer your skin looks the younger it looks, and hence, the yellowish foundation.

Nude Lips
Your dancing days are over and so you will need to go easy on the lips, try the nude lip look. As you age your lips tend to get smaller, this specially goes for the upper lip. Try to stick to shades that will help to enhance your natural lip tone; this will take the attention away from the area. When you go out to get yourself a shade, look for the one that is somewhere between the natural lip colour and a berry shade, as this will help to boost your natural tone. Opt for a stain rather than a creamy lipstick in order to prevent the colour from bleeding, and finally top it off with a clear gloss or balm to keep it hydrated.


Highlighter
Yes, it can be frightening to see an old lady with a shiny look but there is a definite way to use the highlighter. Take the highlighter and dab a very sheer formula just on your cheekbones, not on the brow bones, the apples of the cheeks, or your lips. This will prevent the flat face look and will add a very subtle, youthful and pretty dimension to your features.

Mascara
As you age your lashes seem to get thinner, and so it seems only right for you to apply a thickened mascara to bulk them up. But no, hold it, before you smear a heavy dose of mascara on your eyes you need to understand that your lashes cannot really support the extra weight. The mascaras with such heavy formulas in fact flatten the lashes, and so use lengthening mascara which will be lighter on your lashes. Also, check to see that these mascaras have thin wands so that you can easily coat each lash with care.

So now you have some basic ways in which you can look younger, adapt these points and you will succeed in hiding your real age.

Read more articles on Face Make-up.