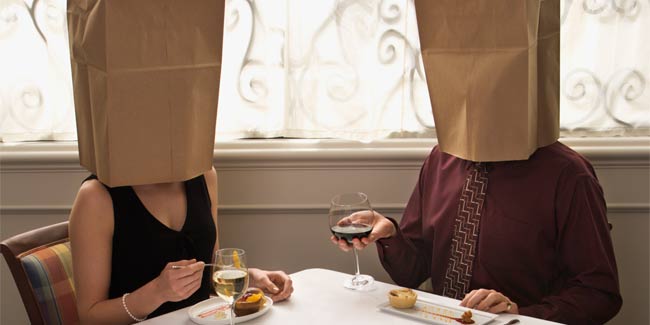 Blind dates can give you jitters as it is not exactly the conventional dating deal, but you can steer past all your problems by following these simple steps.
There is something about meeting a stranger, the possibilities are immense, and there is always a rush of blood, your excitement knows no bounds. This is the best part about going for a blind date, how will your date be? Will he or she like you? Questions seem to pile on the back of your head making it heavy, and before long you may fall and crack your skull.

[Read: Blind Date Tips for Men]

No, not this time, we are here to tell you how you can have a successful blind date.

Don't Over-Expect

It is not fair that you have great expectations about your date, do not expect a Jude Law, or a Victoria's Secret angel. You will only disappoint yourself if you have great expectations from your blind date, do not take this as a way to get hooked up. All that can happen later, but your first approach should be to know a new person and spend some quality time chatting. If things go well then you can go for a second date and so on, or else you will be glad to make a new friend.

Try and find Out

Try and ask your matchmaker as much as you can about your date, this way you can have an upper hand about knowing your date. Your friend will probably try to build the suspense and won't reveal much, but try and get as much information as you can. This will help you to relax and will allow you to understand your date, a preemptive strike may be?

Learn to Listen

It is right that you will have to talk about yourself, but do not over do it, conversation happens two ways, not one way. The secret of a good conversation is that you will have to be a good listener, let your date speak! Listening is a virtue and you will do well by practicing it, also never criticize your date for his or her point of views. You hardly know that person, so let the conversation flow and take it slow. This doesn't mean that you cannot counter a point, but do so politely.

[Read: How to Ruin a Blind Date]

Plan the Place

It is your first date with some unknown person, so take precaution and get things planned before hand, unless being spontaneous is your style. The important factor here is to make it an informal affair, make sure that both of you feel nice and feel free. Try and make it a coffee/tea date, or just a stroll across the park would be great! A walk is often very good, because real situations can bring out more about a person that a closed and created set up.

Don't be Fake

This is just plain wrong, and you will never be able to feel free and have a good time. Being open and free is a great way to enjoy your blind date and make it a success. Trying to impress your date by being someone you are not is a disaster, and trust us but your date will not like or respect this. Be what you are, and you will have a grand time. Imagine if things move forward and he or she figures you out and finds out that you had lied, all hell can break lose!

Blind date is a game with a stranger, you should take a leaf out from Tennessee William's play, 'Street Car named Desire'; and repeat after Blanche DuBois as she says, "I have always depended on the kindness of strangers". Don't get cold feet, have faith on your blind date!

Read more articles on Dating Tips