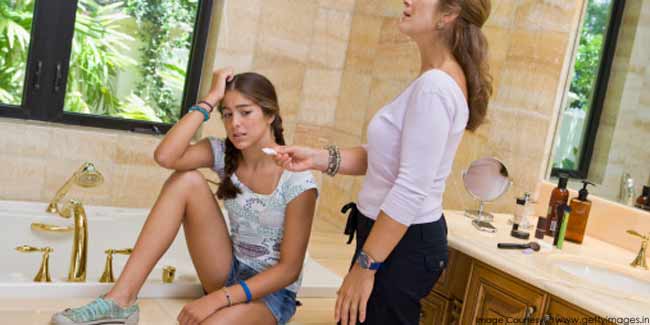 Teen pregnancy has several important consequences for the teen girl, her partner and child. Find out how to handle teen pregnancy.
Teen pregnancy is becoming more common in India. Teen pregnancy has several important consequences for the teen girl, her partner and child. Almost all teen pregnancies are unplanned but if the girl decides to continue the pregnancy there are several sensitive issues involved. Some of these include:
Teen pregnancy makes it harder for the girl to finish high school or college, getting a good job
The social stigma with teen pregnancy can be emotionally distressing for the girl.
There are challenges for the child as well (like neglect, improper care and education, behavioral problems, poor academic performance.)
Some young, teen mothers may give the baby for adoption. This is usually considered as the best choice for teenage pregnancy.
The risks of complications such as abortion, high blood pressure are higher in teen pregnancy.
Parenting for teen father is difficult as well. His relation with the girl and her parents can get strained. At a young age, he is faced with problems like supporting the mother emotionally and the family financially. A teen pregnancy is an avoidable complication. Nowadays, sex education to the teens is an important responsibility of every parent and teacher. It is better that your child gets the right information from you rather than ending up with complications such as teen pregnancy or abortion. your teenager child ample amount of information regarding hazards of sexual intercourse and related health problems. You should make your child conscious of the fact that "it is better to be safe than sorry."
ADHD Parent Coping Skills
Attention deficit/hyperactivity disorder (ADHD) is a common childhood developmental disorder. Children with ADHD find it difficult to concentrate and pay attention, and/or may be hyperactive. They usually do not do well in school and have problem with behaving good, as well. Child's behavior, the way other people react to it, stress of managing an ADHD child and the financial burden associated with it can make parenting an ADHD child difficult.
Read some tips that can help make parenting an ADHD child more relaxed;
Join a support group. They can provide you with good information about coping with an ADHD child.
Talk to social worker or other mental health care professional for advice.
Make your child's life structured—this does not mean rigidity or iron discipline. Children with ADHD do not adapt well to changes.. Predictable or structured routines make it easier for them to adjust, and improve behavior. It makes them feel safe.
Encourage your child with praise and rewards. Do not get angry or reprimand your child without warning or countdown.
Use positive methods of disciplining such as rewarding good behavior, saying a firm no to discourage destructive actions rather than reprimanding your child.
Correct their mistakes with patience by showing or demonstrating the correct way. This sets a good example.
Give them responsibility to lend a helping hand at home and encourage them to socially cooperate
Provide them with a healthy family relationship.
Take a break when needed as this will make you feel relaxed and rested. Consult your pediatrician, your child's teacher, or an expert on child development to understand what can be done to help your child.
Read more articles on Teenage Pregnancy