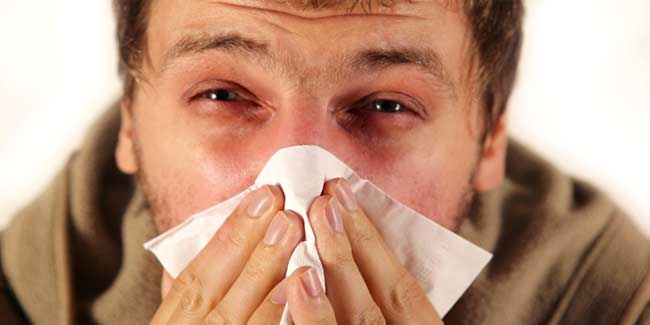 Flu can make you feel awful. The fever and muscle pain associated with flu goes away with treatment within a day or two, but fatigue may last for a week.
Flu or influenza (caused by influenza virus) is a miserable experience as it daunts the victim with countless sneezes, head aches and fever.


Flu develops when tiny droplets coughed or sneezed into the air by an infected person are inhaled by an uninfected person. Flu is often confused with common cold. But, they are different, though certain flu symptoms are the same. According to the University of Maryland Medical Center, fever and muscle pain associated with flu goes away with prevention and treatment in a day or two, however, fatigue may last for a week.

Here is what you can to do help the flu
Antiviral Medications and Painkillers



Antiviral drugs can shorten flu's duration by providing support to a weakened immune system. You must consult a doctor about the medication as there can be nasty side-effects such as upset stomach and dizziness. If fever and aches are making it impossible for you to rest, you may use painkillers. Painkillers such as aspirin, acetaminophen and ibuprofen ease flu symptoms.
Take Enough Rest

You need rest as your body is devoting its resources and energy to fight off the invading virus. The more you rest, the faster you will recover.
Keep Away from Dehydrating Caffeine



Caffeine intake can dehydrate your body more, making it difficult for your body to fight the flu. Moreover, abstaining from dehydrating foods such as coffee fortifies the body with more sweat that helps fight the virus.
Drink Lots of Liquids



Drinking liquids helps to fight flu and prevent dehydration. Drink plenty of water, fruit juices, hot sweet tea and vegetable soups every two hours to sweat out the flu.
Abstain from Dairy Products



Dairy products such as milk, yoghurt and cheese can produce excessive mucus and cause breathing problems while you are trying to fight the infection. These complications can make flu linger on.
Don't Smoke or Drink



Abstain from alcohol and tobacco consumption until the flu subsides. These can dehydrate the body and introduce more toxins into it for your defences to fight, only to make you sicker.
A Hot Bath



Once you have taken the medicine and had soup, give yourself a warm bath. This will make your body relax. Once you are through with the bath, dress lightly. Dressing with woollens can make the fever spike up.
As of now, there's no treatment or definite cure for flu. It has to run its course. There is no foolproof protection even if you get the flu shot. Healthy diet and activity can keep the pesky seasonal virus away.

Signs of flu can make you bedridden. You have to act quick i.e. as soon as you notice the symptoms. It is important that you take good care of yourself when you catch flu.
Read more articles on Cold and Flu.