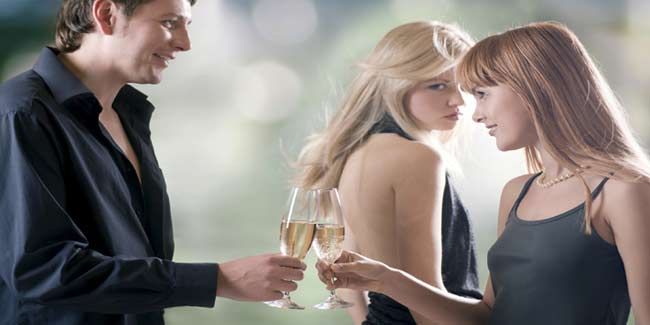 Dealing with a cheating boyfriend is definitely not easy, especially when you have decided to give your relationship a second chance. Learn some ways to deal with a cheating boyfriend.
Unfortunately, there is no way to undo infidelity of your partner, but if you want to give another chance to your relationship, you must learn the ways to deal with a cheating boyfriend.


Remember that while it is possible for a girl to accept her unfaithful partner, building the lost trust and love may take a long time and thus patience and endurance are two essential factors for coping with infidelity.

Be on Your Guard
The prerequisite step to cope with your partner's cheating and restoring your relationship is to ensure that your partner no longer has any point of contact with the other person. This means that he no longer has the other person's phone number/s and email addresses. Even they shouldn't be on the each other's social accounts. It will be impossible for you to come to terms with your partner, especially if the other person still exists in his life.

After facing infidelity, it is normal to set boundaries the second time. Let your partner know that to make it work for the second time, two of you need to be completely honest with each other. This gives both the partners the liberty to access each other's cell phones and email accounts. If he is interested in making it work the second time, he will realise that there is a need to put in a lot of effort to regain your trust and he would willingly dissolve all his contacts with the other person. Otherwise, make it clear to your partner before you strive to rebuild your relationship with him.

Daily Check
After infidelity, it is not unusual for the victim to ask questions about what her partner does every day. Therefore, do not hesitate to throw questions at your partner about his daily activities be it work or outings with his friends. Asking questions frequently helps you process the betrayal and gives you mental assurance that you know everything about your boyfriend. While doing so, you may also need to prepare yourself for hearing unwarranted things. Though your inquisition about your partner's routine is justifiable after you have tasted bitterness in your relationship, he may find it a bit of frustrating to answer all your questions. So it would be better to put your questions forward calmly rather than being intrusive.

Open the Communication Window
For giving your relationship a second chance, listening to his feelings and viewpoint is extremely important. No reason can justify his infidelity, but being communicative with him will give you an opportunity to know what caused friction in your relationship. Remember that though he is a cheater, the reason for his infidelity could be you.

In his book, Handbook of Divorce and Relationship Dissolution, John H. Harvey says, "In terms of relationship characteristics, infidelity has been consistently linked to sexual or emotional dissatisfaction in one's primary relationship." Besides lack of sexual or emotional satisfaction in one's relationship, there are many other grounds such as lack of affection and attention, outlet for an ego boost, and marriage in a rut that compose base for out of relationship affairs. Talk to your partner and listen to his grief, calmly.

It is a myth that unhappy people seek company outside of their relationships. A survey has shown that around 56 percent of men involved in infidelity say that they are happily married. If you have a blissful marriage, you're still at the risk of infidelity of your partner so; being communicative to your better half in every relationship is requisite.

Listen to his Apology
While you're all ears to your partners' reasons for an illegitimate relationship, forgiving him is vital for re-establishing your bond with him/her. If he or she apologises, understand his guilt and do not stress excessively on the past instead, decide whether he deserves your trust for the second time or not. Another piece of advice is to do not gibe at his mistakes, especially in front of his friends, colleagues or family members. This may be a blow to his self-esteem and may compel him/her to move out again of your existing relationship, forever.

Devote Some Time to Yourself
You must have to live through this time to regain momentum in your once-cherished-relationship. Spend some time with yourself, do activities that you enjoy and pamper yourself with new dresses, a movie or a weekend trip. Spending some time with yourself and hanging out with those who do not judge you or your relationship with your partner, will refresh your mood and will give a break to your disordered life and relationships.

While trying to rebuild your relationship, it will be emotionally and mentally tumultuous for you. Confiding to somebody close other than your partner will help you relieve the burden from the past. Discussing your issues with a close friend or family member will reassure you that your partner's adultery is not your fault and your way of dealing with it is perfectly fine and justifiable.
Read more articles on Cheating.