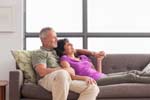 The best way to deal with menopause as a couple is to understand and respect each other. Menopause may cause problems between a couple but dealing with it with love and patience is the key.
Menopause has always been a cause of anxiety for women. However, it is more important to deal with this stage of life as a couple. Not only the woman but the relationship also undergoes a change in terms of physical and emotional dependency on each other.


Below are a few pointers to deal with menopause as a couple in the best possible way:
Menopause is a stage of anxiety where the woman experiences a total stoppage in the menstrual cycle. This makes the woman more vulnerable to diseases such as osteoporosis and other cardiac diseases. Although a woman has to undergo the changes the husband should understand and empathise with the changes in mood and body.
Menopause is a very unique kind of a hurdle where the relationship between the couple can be largely solved through communication. The man should deal with the changing temperaments of the woman cautiously. This can reduce the problems in the relationship to a great extent.
Women tend to become more emotional during this phase as they no longer can relate to the same physical comfort that they had been experiencing so far. Patience is necessary for the couple to survive this stage in a woman's life.
The men should learn about the facts of menopause before forcing the woman for sex. Menopause, in most cases, reduces the sex drive of the woman. This is because of the drastic hormonal changes that the body undergoes during this phase. A general familiarising of the concepts pertaining to intercourse is necessary to understand the serious changes occurring in the body of the woman. It is better to know the causes of such an aversion rather than picking up a fight.

Major hormonal imbalances in the body of the woman lead to various kinds of misunderstandings in the mind of the woman triggering various misunderstandings and quarrels at home.
Discomfort is the fundamental peril of menopause. Be it physically or emotionally, factors such as lack of lubrication while having intercourse, vaginal discomfort and restlessness leave couples helpless and broken. The best way to deal with these problems is to understand the idioms of love based on understanding rather than disagreeing over issues. Menopause can be managed if the couples are willing to communicate and understand this stage in a woman's life. Understanding menopause as a couple is a joint effort.
Image Courtesy: Getty Images
Read more articles on Menopause.