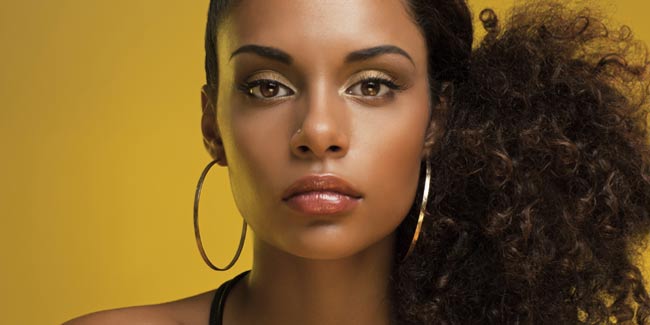 Dark skinned women are often apprehensive about wearing the right shades of make-up to avoid looking overboard. Learn here how to choose make-up shades for dark skinned women.
Your dark, dreamy assets can look enviably luminous when you apply the right make-up to it. Flaunt your dark skin in bold, jewel tones, and candy- coloured brights that other women can't pull off.


The trends keep changing but the colours that really flatter your skin tone will keep you looking smoking' every season. Make-up that looks good on one dark complexion might not necessarily look good on the next dark skin. Every dark skin has a variety of undertones- yellow, reddish, olive or bluish. It is important to recognize your skin tone while choosing the correct colours for make-up.

Knowing the Right Colours According to Your Skin Undertones
Dark Skin with Yellow Undertones: Golden-based bronzers will amp up the sunny tones in your skin. Dark apricots, berry shades and honey hues will all look luscious on your lips and cheeks.

Dark Skin with Reddish Undertones: Play up lips and cheeks with dark raisin hues or with terracotta or cranberry red shades. Lavish your lids in exotic jewel tones: gold, copper or emerald green. A slinky little number in glistening gold, copper or bronze illuminates your rich skin.

Dark Skin with Olive Undertones: Warm pinks, brownish roses and shimmering taupe will look luminous on your lips and cheeks. To make your eyes pop against your skin, sweep on sapphire blue, forest green or sparkling brown shadow.

Dark Skin with Bluish Undertones: Try golden eye shadow, or a tawny-gold highlighting powder on your cheeks. For lips and cheeks, choose deep plum or cinnamon red shades.

Choosing the Right Concealer for Dark Skin Tone
The first step is to determine what on you face do you need to conceal, and according to that, choose a concealer. Like pick an under-eye concealer if you have dark circles. And buy a matte-finish liquid concealer to hide blemishes.

The foundation that you are buying should be one or two shades lighter than your skin tone. While testing, try a concealer with yellow undertones first; if it looks against your skin, switch to something with orange or golden undertones.

Choosing the Right Powder for Dark Skin Tone
Dabbing just any old shade of powder is not a good idea. To match the powder with your complexion, you must determine your skin tone first. Hold an orange paper next to your face- if it makes your skin glow, you have warm undertones. Do the same with a pink paper- if it makes your complexion to brighten up, you have cool undertones.

Do not try the powder shade on nude face. Apply foundation and concealer first just like you normally would, and then start experimenting. Brush two different shades on two halves of your face to see which works better.

Choosing the Right Eye Colour for Dark Skin Tone
Metallic shadows go best with dark skin. When you want to look sexy, go for shimmer. Sweep a golden or silver shadow across your eyelids when you have to attend a party. For a normal evening look, wear two coats of mascara, black eye liner and a high-wattage lipstick.

You can also go smoking hot with charcoal gray smoky eyes. Applying a metallic gray shadow to your eyelids will give your look a dark and dramatic twist.

Sweep a golden bronze colour on your eyes for a daytime look. To tone down your metallics for day, pair your gold shadows with a matte beige or taupe shadow.

Choosing the Right Blush for Dark Skin Tone
Blush adds colour to your skin, and defines your cheeks and cheek bones. When you want a dramatic look, brush on a bright pink blush to your cheeks. It will provide a sexy contrast between the bright colour and your super sexy dark skin.

When going for the natural look, opt for a bronze blush that has subtle hints of pink. The bronzer will help highlight the apples and bones of your cheeks, and will add a soft glow to your skin.

For the date, and after that, grab a deep plum to look seductive. Just a little sweep of the dark purple will leave you look ravishing. Beware of wearing it dark or you may end up looking like dressed for Halloween.

Choosing the Right Nail Colour for Dark Skin Tone
Of course, you can brush on any nail colour you fancy, but certain colours flatter the dark-skinned divas like none other. Pick colours that are bright and beautiful. If you like red, choose a bright shade of red. Go for an orange-red shade.

Think deep burgundies and chocolate browns with reddish tones. Black shades? Sure! Try and avoid pales, nudes, sheer shades that tend to make dark skin look older than it is. But you can apply more than one coat for a more intense hue of pink.

With our tips to choose right shades of make-up, rock the colours that are really right for you and your skin. Don the make-up you've always dreamed about wearing and walk out of the house totally confident.
Read more articles on Face Make-up.