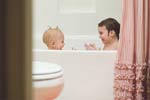 Choosing baby names for siblings is a great responsibility on parents. The name must be unique yet connected to each other.
Selecting name for first baby is quite simple. Parents can easily choose a name that seems suitable and impresses both of them. But when it comes at naming the second baby, people often find difficulty in choosing a name that is unique yet goes with name of the first baby. To create a sense of unity, most parents prefer to select similar names for siblings.


Here are some of the ways to choose baby names for siblings:
To create joint identity among siblings you can name them with the similar words. Choose a name that starts with similar letter. Aakash & Aadarsh, Harshit & Heman, Umesh & Upendra are some of the example of Indian baby names that starts with the same letter.
You can choose rhyming baby name for siblings. Similar sounding names will give your babies a sense of unity. You can either select a name that begins with the same sound or can opt for one that ends with the same rhythm. An Indian baby girl name Suchi can be given to sibling of girl named Ruchi. Devansh and Devanshi are the other Indian name for siblings.
Make sure that name of siblings have same origin. For instance Ramona and Carmen have Spanish origin, Jessica and Jacob have Hebrew origin, Kelvin is Irish name.
If the name of your first baby is traditional and classic then the second name must also be similar. Abhimanyu, Arjun and Ram are some of the Indian baby boy names. Some traditional baby girl names include, Varuna, Gauri and Nandini.
Name with similar number of character.
If your first child has unisex name then give similar name to your second child.
You can even choose a theme and name your baby accordingly. Names such as Lilly & Holly (flowers name), Jason & Juno (mythological character) and other names that share something in common. If you decide to name your baby with this approach then make sure that you don't get carried away and choose silly name for sibling. Jack & Jill and Ben & Jerry are some of the names that can sound silly when given to siblings.
Avoid giving gender-shared names to siblings. When called together such names can put a girl or boy in awkward situation. Bailey, Parker, Jordan and Taylor are some of the gender shared name that can be avoided.
When you choose baby name for sibling ensure that it respect child's individuality. For instance if your first two daughters are named Aadita and Aadrika and third baby girl is named Girija then she may feel left out.
When you choose baby name for sibling then don't get carried away with the thought of giving rhythm. Make sure that the name is logical. After all, it will be with your baby throughout his/her life.


Image Source: Getty Images

Read more articles on Baby Names.