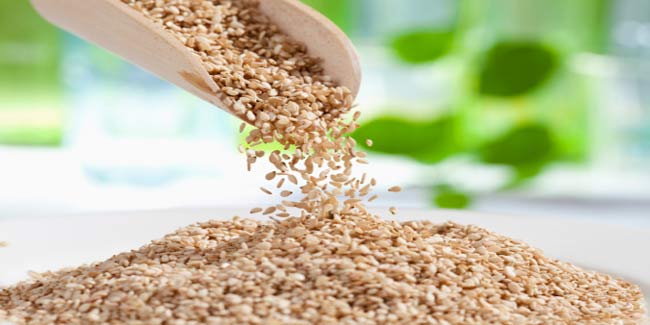 Various nutritive and medicinal properties of sesame seeds help to cure ailments such as coronary artery disease and colon cancer.
Sesame seeds are one of the first oil seeds known to humankind. These seeds are used in culinary as well as traditional medicines, and that is because of its nutritive, preventive and curative properties. Find out how it is so good for you.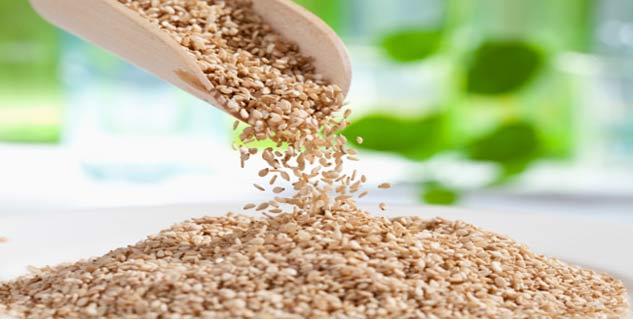 Sesame seeds are used for medicinal purposes owing to their nutritive, preventive and remedial properties. These seeds are rich in calcium, iron, copper, zinc, proteins, phosphorus, vitamin E and B1, fibre and manganese. Furthermore, these are known to promote good functioning of the kidneys, abdomen, liver and spleen. These crunchy seeds are considered beneficial for the whole body, particularly for vegans as it has been pointed out often by nutritionists that vegetarian diet lacks iron and zinc.
Eases postmenopausal symptoms
According to a Canadian study published in the journal 'Molecular Nutrition and Food Research' in 2009, consumption of sesame seeds ease postmenopausal symptoms such as weight loss by regulating metabolism and increasing level of omega-6 essential fatty acids in the body. Sesame seeds decrease the risk of stroke in postmenopausal women by giving sufficient amount of vitamin E.
Prevents coronary artery disease
Sesame seeds are rich in monounsaturated and polyunsaturated fats, thus aid sustain HDL 'good' cholesterol levels and minimise levels of LDL 'bad' cholesterol levels. This improves one's lipid profile and significantly reduces the chances of coronary artery ailment and stroke.



Atherosclerosis is a medical condition in which fat, cholesterol and other substances in the body accumulates in the artery walls and form hard structures called plaques. Atherosclerosis is the leading cause of heart attacks; therefore, it should be prevented and treated on time. A study published in 2007 in the journal 'Critical Reviews in Food Science and Nutrition' stated that sesame seeds are rich in anti-oxidants and can avert potential damage to the blood vessels, preventing atherosclerosis.
Helps to fight obesity
Sesame seeds and sesame oil help maintain height andweight ratio by controlling weight gain. According to Ayurveda experts, people who wish to keep their body in shape should include sesame oil (sesamolinol) in their diet.In a research conducted in order to learn weight loss effects of sesame seeds and oil, it was found that people using sesamolinol lost more than 30 kgs.
Prevents osteoporosis
Sesame seeds are one of the best sources of calcium providing even more calcium than dairy products. The amount of calcium in half a cup of sesame seeds is three times more than what a half cup of whole milk does. People with weak bones must include sesame seeds and sesamolinol in their diet to hinder the onset of osteoporosis.


Though sesame seeds and oil are healthy, their long-term effects haven't been understood by nutritionists well, therefore, pregnant women and kids shouldn't consume high amount of these.

Image Source: Getty

Read more articles on Home Remedies