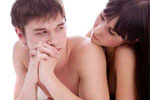 Intimacy in Relationships - A marriage can fall into the rut of becoming sexless. Couples who intend to have a long-term relationship should try to fix this problem before it is too late.
If you have begun to feel like sharing a room with an adult rather than an emotionally and physically intimate spouse, don't worry, you are not alone. You need to be proactive about saving your marriage and it will not do to just let things be as they are. Sex in marriage is important and you need to understand the causes behind it becoming sexless.
Tips on Saving a Sexless Marriage
Know the Real Cause – Lack of sex in your marriage is only a symptom, the real problem is something else. It is a question of physical intimacy stemming from a deeper issue. Trying to fix the issue of lack of sex without understanding the real cause of concern, the situation is likely to worsen.
Work on the Problem – Despite lot of calls on your time from work, life's routine tasks, children and others, you cannot go long without fixing your marital troubles. Have honest, candid discussions with your partner on this issue. Do not blame your partner for all the problems. Pent up resentment, low libido, side-effects of medications or anything may be the cause behind the problem.
Do not continue the Daily Drudge – The daily routine of work, home and sleep can deprive your relationship of the spice you badly want to feel. If you are not conscious about doing something enjoyable on the weekends, it is likely to get worse. Remember the times of your dating. Jazz up your life by planning something exciting, a mountain trek or even planning a vacation.
Be more Refreshing – Since you want to embark on something new, do not be predictable all the time. Not to say that you need to altogether shift your personality to something else. Just try out new surprises from time to time. This could mean simple things such as altering your approach when going to bed. Try to behave in a way that is conducive to evoking the response you want from your partner. Do not wait for special occasions like birthdays or anniversaries to be special. Just let your partner know that you adore him/her.
Physical intimacy is a result of emotional intimacy in long-term relationships. Read our article on "How to increase emotional intimacy" to turning a new leaf in your life. The very fact that you are reading this article means having a long-term relationship means a lot to you. Follow the tips given above but most importantly, never give up on your relationship.
Read more articles on Intimacy in Relationships