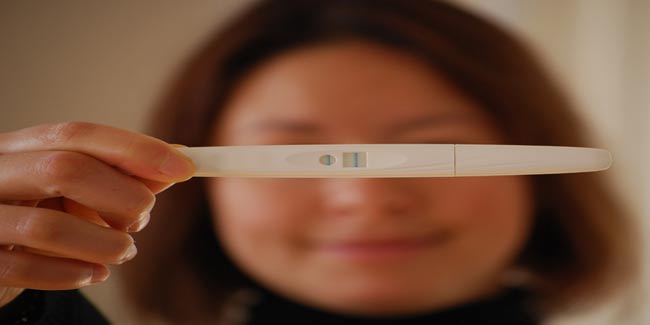 Home pregnancy tests are more reliable if you have tested positive. The test results in pregnancy tests depend on the level of pregnancy hormone hCG.
A missed period can be a major cause of anxiety for many, you would run to the medical store and buy a home pregnancy test kit. But can you really rely on the test?
Home pregnancy test is the first recourse of women who suspect that they might be pregnant. The reliability of home pregnancy tests has always been questionable and it is always considered advisable to get a blood test conducted to confirm the result of the home pregnancy test. It is all about the presence and density of human chorionic gonadotrophin (hCG). Home pregnancy test reliability is different based on whether you have tested positive or negative.
Positive result in Home pregnancy test
A positive result is more reliable than a negative result. This is because the equipment used to detect pregnancy shows result even when the hCG level is not so high. You should immediately visit your GP or OB/GYN to confirm the result with a blood test and start taking precautions.
Negative result in Home pregnancy test
Negative results are less reliable than positive results. This is because the level of hCG in your urine may not be as high to give the accurate results. This generally happens when you take the pregnancy test too early.

A pregnancy test may not be sensitive enough to react to the lower level of the pregnancy hormone. The sensitivity of these tests determine how soon pregnancy can be detected which is based on the level of hCG that needs to be present in the body. The label on the test kit can give you information on how sensitive your pregnancy test is. So, you have all the reasons to doubt the negative result of the home pregnancy test. Visit your GP to confirm it with a blood test. It would be advisable to wait a week before doing so.

Compared to home pregnancy tests, which are considered 97 percent accurate when conducted properly, blood test is much more accurate. A quantitative blood test, generally referred to as beta hCG test, evaluates the exact number of hCG units in blood. This means it will detect even the most minimal level. There is one more type of blood test at times referred to as qualitative hCG test. This is a test that has simple system of giving a yes or no to whether you are pregnant or not.

Just like home pregnancy tests, labs differ as to what is thought of as positive pregnancy test. Common limits for positive result in blood tests for pregnancy are 5, 10, and 25 units. If it is under 5, it is considered negative. A blood test which gets triggered at 25 units of hCG sould not be considered any more sensitive than many of the home pregnancy tests.
Read more articles on Pregnancy Test