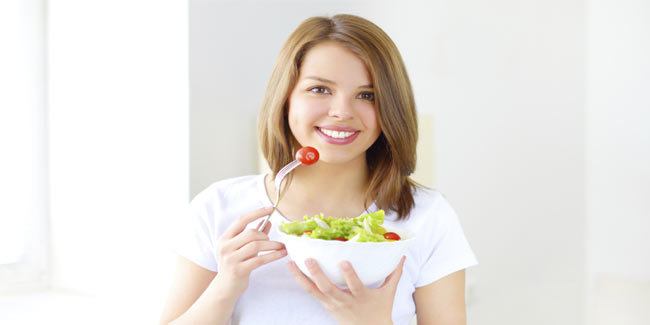 Nutrition needs in pregnancy doubles, but in case of teenage pregnancy, they are tripled due to teen mothers undeveloped body. Know in detail here.
If a girl becomes pregnant in teenage, she will need additional amount of nutrients to nourish her baby and to continue her own physical growth. Due to absence of required nutritional needs, the teenage mother and her baby may undergo several complications of teen pregnancy, such as low birth weight, preterm delivery and anaemia in mother.


Teen pregnancy complications can lead to maternal mortality as well as infant morbidity. For risk-free pregnancy, teenage moms-to-be need to seek prenatal care and must be aware of their nutritional requirement.
Importance of Nutrition during Pregnancy
Nutrition during pregnancy is essential for healthy mother and baby. Adequate nutrition in pregnancy lowers the risk of birth defects, aids in proper growth and development of foetus, and prevents chronic health issues in teenage mothers and their babies. Essential nutrients required in pregnancy are folic acid, iron, calcium, vitamin D and protein. Including these nutrients in your diet and taking their supplements contribute to the unhampered growth of the foetus and significantly cuts down the risk of pregnancy complications. Nutritional deficiency can cause anaemia in teen mothers and further strain their immune system.


Teen Nutrition Challenges
Certain factors of adolescence such as poor eating habits, indulgence in junk food and avoidance of regular diet make nutrition particularly challenging during adolescence. Unhealthy eating practices, such as dieting, skipping meals, refusal to eat veggies and snacking on fast and junk foods deprive teens from gaining required amount of nutrition. Pregnancy with such a lifestyle can end in a miscarriage, or during the teen mother is much more likely to develop pregnancy complications during third trimester of pregnancy..



How to Encourage Good Nutrition in Teen Mothers
Teens do not understand the importance of nutrition during pregnancy and the repercussions of leading an unhealthy lifestyle. Therefore, family members of adolescent mothers and their health care professionals need to motivate them to adapt the habit of eating a nutritional diet. Teenagers should be taught the link between healthy eating practices and proper foetus development. Consulting a dietician will be a great help to maintain pregnancy health.

Considerations
Smoking, alcohol drinking and drug abuse are some other threats to pregnancy health and foetus development. To ensure healthy pregnancy, it is essential to eliminate these habits in teen mothers. Nicotine from cigarette smoking and toxics from drug abuse can cause brain damage in infants. In fact, their use can complicate pregnancy even further, increasing the risk of severe complications during pregnancy such as low birth weight and high blood pressure.
Read more articles on Teenage Pregnancy.