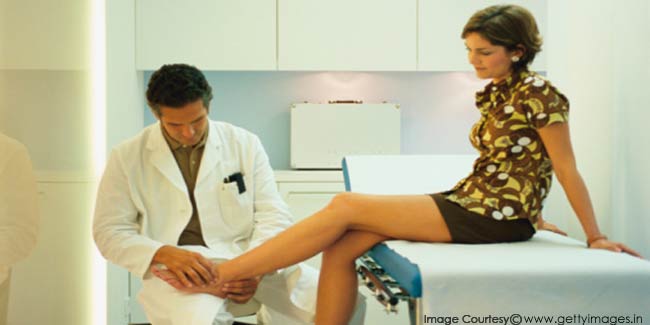 High blood glucose levels can worsen the common infections. Diabetics need to take extra care of their feet. Scan here for common diabetic foot problems.
There are numerous and extensive complications of diabetes. Often, a combination of diabetic factors such as decreased circulation, loss of sensation, structural foot deformities and loss of skin integrity create conditions for the formation of a non-healing wound.
A diabetic ulcer can be a simple break in the skin which does not heal in a timely and orderly fashion, or a wound that extends to deep structures and bone.
They are often the entry points for bacterial and fungal organisms to invade the body, and the cause of limb and life threatening infection. Incredibly, diabetic foot ulcers are often painless.
Common Diabetes Foot Problems
Anyone can have corns, blisters, and other foot problems. If you have diabetes and your blood glucose stays high, these foot problems can lead to infections.


Corns and calluses are thick layers of skin caused by too much rubbing or pressure on the same spot. Corns and calluses can become infected.


Blisters can form if shoes always rub the same spot. Wearing shoes that do not fit or wearing shoes without socks can cause blisters. Blisters can become infected.


Ingrown toenails happen when an edge of the nail grows into the skin. The skin can get red and infected. Ingrown toenails can happen if you cut into the corners of your toenails when you trim them. You can also get an ingrown toenail if your shoes are too tight. If toenail edges are sharp, smooth them with an emery board.

A bunion forms when your big toe slants toward the small toes and the place between the bones near the base of your big toe grows big. This spot can get red, sore, and infected. Bunions can form on one or both feet. Pointed shoes may cause bunions. Bunions often run in the family. Surgery can remove bunions.


Plantar warts are caused by a virus. The warts usually form on the bottoms of the feet.


Hammertoes form when a foot muscle gets weak. Diabetic nerve damage may cause the weakness. The weakened muscle makes the tendons in the foot shorter and makes the toes curl under the feet. You may get sores on the bottoms of your feet and on the tops of your toes. The feet can change their shape. Hammertoes can cause problems with walking and finding shoes that fit well. Hammertoes can run in the family. Wearing shoes that are too short can also cause hammertoes.


Dry and cracked skin can happen because the nerves in your legs and feet do not get the message to keep your skin soft and moist. Dry skin can become cracked. Cracks allow germs to enter and cause infection. If your blood glucose is high, it feeds the germs and makes the infection worse.


Athlete's foot is a fungus that causes itchiness, redness, and cracking of the skin. The cracks between the toes allow germs to get under the skin and cause infection. If your blood glucose is high, it feeds the germs and makes the infection worse. The infection can spread to the toenails and make them thick, yellow, and hard to cut.


Tell your doctor about any foot problem as soon as you see it.
Read more articles on Feet Care
Disclaimer
All possible measures have been taken to ensure accuracy, reliability, timeliness and authenticity of the information; however Onlymyhealth.com does not take any liability for the same. Using any information provided by the website is solely at the viewers' discretion. In case of any medical exigencies/ persistent health issues, we advise you to seek a qualified medical practitioner before putting to use any advice/tips given by our team or any third party in form of answers/comments on the above mentioned website.