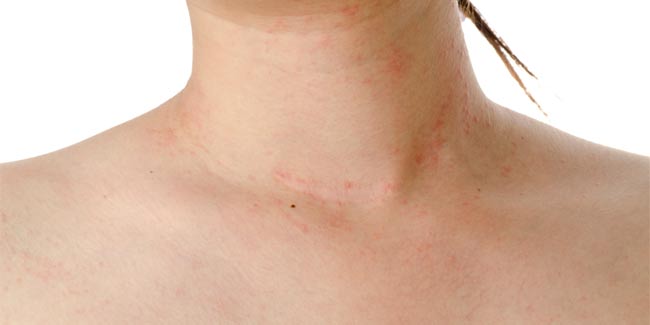 There are two types of dengue rashes- the first dengue rash occurs in the first two days while the second kind happens when the fever is subsiding.
Dengue is a tropical disease that causes high fever often accompanied by rashes. There are two types of common dengue rashes; the first rashes occur with the onset of fever and the second occurs as the fever subsides.
Dengue Rash Duration and Symptoms


First Rash
The first dengue rash occurs within one or two days of fever. The rashes are characterised by bright red dots on the patient's skin caused by bleeding underneath the surface of the skin. The patient's eyes may appear yellow and the skin pale. This condition is usually fleeting and generalised.

Second Rash
The second stage of rash appears when the fever is subsiding and lasts for 1 to 5 days. In this kind of rash, the skin has a bright red look with small bumps. Usually this type of redness is found all over the body but there will also be some unaffected areas of the skin. The palms and soles of the patient stay protected from these maculopapular dengue rashes.

Complications after Rashes
These rashes can be extremely itchy causing the affected skin to peel off. Since there is no specific treatment for dengue rashes, the patient should bear in mind its duration and use some skin soothing cream/lotions for relief. Once the dengue rash has subsided, a moisturiser without perfume can help the skin to return to normal. As with all other symptoms and complications of dengue, there is no cure for rashes too, and they can only be managed.

You are advised to get the rashes diagnosed to exclude other potential causes for they may also be caused by a much severe medical condition. Nonetheless, medical attention should be immediately sought if your rash follows a mosquito bite, especially after a visit to dengue endemic areas.
Read more articles on Dengue.