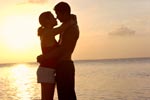 How to Kiss a Boy: Kissing a boy for the first time can be a nerve wracking experience for any girl. Read our tips on what you should do for a smooth kiss with your boy for the very first time.
So you are super attracted to the cute guy you have been dating for a month now and you want to take it to the next level, right? Often girls are left baffling with the question of how to kiss a boy for the first time. They are riddled with confusion with regards to what the guy will think of the girl or how he would react to the overture. Well, in order to ease you and help you steal that first kiss with a boy you have been yearning to get intimate with, we have some tricks up our sleeve!


[Read: How to Kiss a Girl for the First Time]
How to Kiss a Boy for the First Time?
Make him Feel Comfortable
The first step to getting intimate with your guy is to make that person feel comfortable.
If you look at him earnestly and he looks away, it is a giveaway that he is uncomfortable. Spray some warmth in the air.
Try talking about things that both of you share an interest in.
Use your wit and humour to loosen him up and don't even think about springing a surprise on him and jumping his bones!
No PDA, Please!
You have to meet your man at a place where the two of you can be comfortable about getting intimate. Meet at your house or his place. Nobody likes prying eyes. Moreover, if your guy is conservative, he may sit knee-length apart.
Trying to kiss a boy for the first time and that too in a public place may end up in embarrassment. What if he is not ready and gets angry at your move? Try and think of the situation and save yourself the agony of a bad first-kiss experience!

[Read: Brush-up your Kissing Skills]
Break the Touch Barrier
A kiss is an intimate display of the love that you feel for your man. For it to be perfect, you will have to break the barrier of touch.
Try and hold his hands or touch his shoulder lightly. If he reciprocates, he is comfortable and ready to take it to the next level. If not, then you should give it some more time.
Breathe Fresh
Remember to pop in a mouth freshener before you attempt to lock lips with your man.
You might be a garlic lover but its aftertaste is not something your man will appreciate when kissing! Avoid eating it or anything that does not smeel
Wipe Off the Lipstick
Sticky lipsticks and lip gloss are a turn off for any man. Remember to dab it off before you make your move.
However, it in no way means that you offer dry and chapped lips to him! Put on a light lip balm and if you are out of it just lick your lips.
Again, do not slobber it with saliva as the poor boy is about to kiss a girl and not his dog!


[Read: Health Benefits of Kissing]
The final advice that all ladies out there need on how to kiss a boy for the first time is that you will have to wait for the right moment. A hastened step might just scar your blossoming relationship. Therefore, read the subtle signals that your boy leaves for you and have fun!
Read more articles on Sex and Relationship.