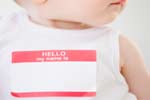 Finding a good symbolic name for your baby may not be the easiest task as you need to ensure that it sounds good too. Follow the tips given in the article to know more.
Finding a suitable baby name is an important responsibility of parenting. If you want to give her a name which is symbolic of something in particular, it becomes all the more difficult because the names can be tongue-twisters or too odd-sounding to be considered. With some tips given below, you can make this task easy for yourself.


Tips to Give Symbolic Name to Your Baby
Give a thought to the kind of symbolic name you want to give your baby. Is it about someone in the family, anyone you admire or the name of a venerable deity. It can even be something simple but dear as the flower in your kitchen.
You can read about the names of different flowers and their meanings to know about the kind of name you want to give her. The meaning of some flower is elegance; while for some other is grace. This can definitely give a personality to your child.
You should also keep in mind your surname before giving name to your baby. There are some surnames such as Hurlington which sound elegant and traditional, so it would be best to keep matching names such as Victoria or Sebastian.
You can research on your family's history and give your child a suitable name based on it. Your grandparents can help in that.
It is very pleasing to have the baby named in a way which is symbiotic of the names of parents. Naming the daughter Ravina when the parents' names are Ravi and Veena is a good example.
You can read up various baby names book and come upon the right name for your baby. Choose a book which gives meaning of the proposed names.
You can give religious names to your child based on inspiring religious legends or personalities. There is no dearth of options in this way of naming.
Some people enjoy making up names which sound like some activity. Tom Waits is a name which gives the impression the person called Tom is waiting. Same is the case with Scout West, which means search westwards for something.

By following the tips given above, you can expect to come at a good symbolic name for your baby. Make sure that you do not ignore that it sounds good when looking to be symbolic of some great concept.
Image Courtesy: Getty Images
Read more articles on Baby Names.