Chaat Papdi indeed is a thing to drool over and if you ever decide to try this delicacy, no place is better than Chandni Chowk of Delhi. Chandni Chowk is hub for for Chaat papdi lovers.

However, homemade Chaat Papdi is and will always be incomparable in terms of taste. If you too are looking forward to a homemade healthy treat of Chaat Papdi, we have the perfect recipe for you.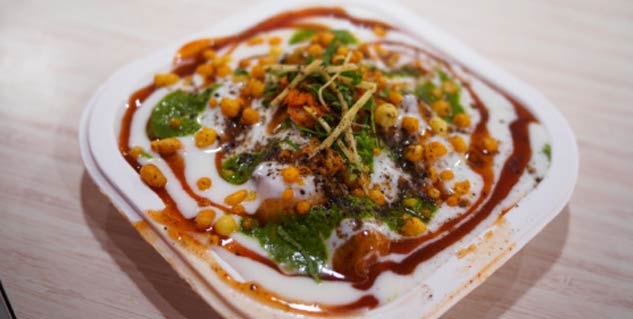 Ingredients for Papdi Chat
Small papdi - 1 Bowl (fried)
Urad daal fritters (pakodi )- 1 Bowl (Fried)
Chick pea – 1 Bowl (Boiled)
Potatoes – 2 Bowls (Boiled)
Curd – 500 Grams
Salt – To taste (Half teaspoon)
Roasted cumin powder – 2 small spoons
Chaat masala – 1 small spoon
Sweet chutney - 1 small bowl
Green chutney - 1 small bowl
Green coriander - finely chopped
How to make Papdi Chat
Choti papdi:
Take 100 Gms corn flour to make Mathris make dough out of corn flour. Part in two, prepare small round shaped dough. Now, with help of a rolling pin, flatten out those small spherical dough pieces like chapatti (small chapatti). Pierce each small chapatti with a knife, each chapatti should have five to six small pore like holes. Now, deep fry them in a pan full of oil.
For Urad daal fritters (pakodis):
Wash urad daal, soak in water for 2 hours and drain afterwards. Make a paste out of the daal and then fry small fritters (pakodas) for e.g. Dahi Vada.
Now, dip the urad daal pakodis into luke warm water and then drain the excess water. Cut potatoes.
Churn the curd, add salt and cumin powder.
Take a wide shallow bowl. Place Papadis, chick peas, pakodis and potato.
Cover the mixture with churned curd. Now, add some sweet and green chutney. Garnish with green coriander leaves.

Paapdi chaat is ready. Enjoy it over a get together.
Image source: Getty