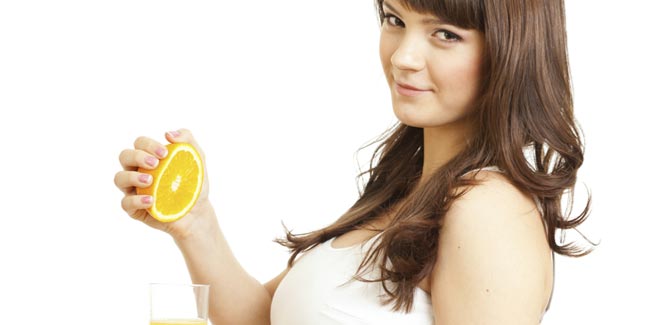 Protein-rich diet for pregnant women is important because this nutrient is needed for the baby's growing brain and to put away the risk of complications.
Protein is one of the most important nutrients that you need to consume during pregnancy. This is because it allows proper growth of cells, production of blood and provides for the needs of the growing baby.
The growth and function of amniotic tissue of babies is dependent on the protein intake of expecting mothers. Insufficient amount of protein during pregnancy can hamper proper growth and lead to low infant weight and produce negative effects on the baby's growing brain. 60 grams of protein daily is a must for proper growth of babies.
High Protein Foods



Dairy products

– They are the best source of protein for pregnant women. Foods such as eggs, cheese, milk, yoghurt or paneer should be taken in your diet daily. The calcium content of these dairy products is also essential for development of bone tissues in the foetus. If you take four servings of dairy foods daily, it is likely to fulfil your need for 60 grams of protein along with calcium.

Seeds and Nuts

– Just a handful of nuts can fulfil your daily requirements of protein. Nuts rich in protein are almonds, peanuts, Brazil nuts, cashews, pistachios, walnuts, hazelnuts and coconuts. Seeds rich in protein are pumpkin, sesame and sunflower.

Beans and Legumes

– Many of these are very high in protein. Mung, kidney, navy, Great Northern, black and fava beans, lentils, split peas and chickpeas are some foods that can provide a lot of protein. Daily protein requirements can also be met by having tofu and soy products which include soy milk, miso and curd.

Oats

– Although, grain is not considered very high in protein oat is one such grain which is dense with the nutrient. You can have one cup of grain during pregnancy and it would prove to be a great start to building a protein-rich diet. You may like to eat it with muffins, pancakes, cookies or eat it solo.
High-protein diet is always recommended during pregnancy as it helps to maintain a healthy blood sugar level and provides the body with the necessary nutrition for healthy growth of baby and sustaining health of the expecting mother. Protein is needed as a reservoir of energy in your body and also to provide your cells with nitrogen for building up immunity.
With such an important function to perform, protein has been rightly called the building block of life. With the expecting mother building a life during pregnancy, it becomes all the more important for her to ensure its adequate intake.
Read more articles on Pregnancy Diet.