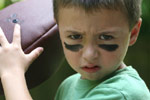 Find out what your kids eat after playing games, because according to a study that could be the real cause behind the extra weight.
Playing games and being active are great ways to be fit for a young kid. But most times it has been found that kids are not doing very well in the physical fitness section even after having joined sports.

Obesity is a terrible problem, and for children to suffer from the same can be devastating for their lives. The onset of obesity at this early age would have an adverse effect on them when they grow older, they may then have multiple problems attributing to their physical health. The extra pounds in children can lead to diseases such as diabetes, high blood pressure and high cholesterol. Childhood obesity can also lead children to poor self esteem and mental depression, and is hence very necessary that your child is taken care of so that he or she does not grow obese and on the other hand is not too weak. A new research that was recently published in the journal Childhood Obesity said that unhealthy food that children eat after playing games make them fatter.

The Research

The study involved boys who were aged between 8 to 11 and those who participated in games at the youth baseball field in the US The snacks that are usually served after the games are found to be high calorie food items. Therefore, adhering to this tradition, the kids were given French fries, sweets and cookies and sugar-sweetened drinks.

The entire premise of the research was based on the fact that children who play games end up eating foods that are high in calorie and therefore they actually end up consuming a lot of calories. The worrying fact is that at times it may so happen that they end up consuming more calories than that they had burned during playing or training.

The Conclusion
The problem of obesity is looming over us in the current times, because the food that we eat isn't really great, and on top of everything there is the situation of a sedentary lifestyle. A person's diet is such a great concern in the modern times that there are so many new dieting techniques that are prescribed to people, and we end up confused!

Joseph Skelton who is the associate professor of paediatrics at Wake Forest Baptist Medical Centre in the US, said: "Though youth sports are an excellent way to promote physical activity, social interaction and positive health behaviours, the food environments are often characterised by less healthy food options with high calorie contents and lower nutrient density."

News Source: auntintmail.com

Image Courtesy: gettyimages.in

Read more articles on Health News.