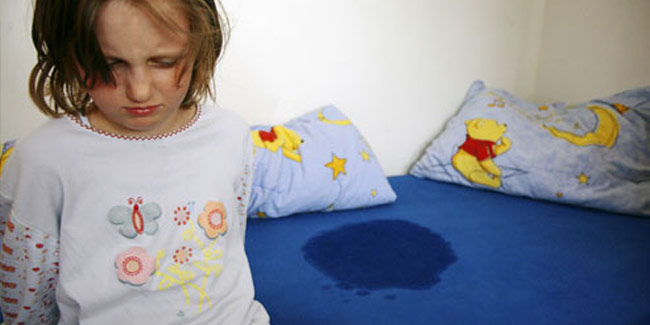 Most parents do not talk about their kids' bedwetting habit, so just because your child wets her bed at night, do not put her at the forefront of a wrathful battle.
Bedwetting may not be the most commonly broached topic amongst you and your little daughter's friends' mothers' at the school busstop. But, the fact is that it is as common as hair fall. About ten percent of children aged five wet their bed in the middle of the night and almost each night. Apart from you being at the forefront of cleaning her bed half-awake in the middle of the night, your child is scared, upset and embarrassed. That does not mean you have to put up with it, there are a couple of things you can do to ensure that your child never wets the bed again.
Understand Why the Child Wets the Bed
No matter old or grown your child it, he/she does not require to be disciplined for wetting the bed. It is absolutely normal and there are several reasons why it may be happening. Some of them include the underdeveloped nervous system, stress, anxiety and rarely, urinary tract problems. If the bedwetting is recent, there is nothing that you have to worry about, but if it has been sustained over a period of time, make sure that you take your child to the general physician. The GP may recommend local help or will refer your child to a bedwetting advice group if there is any in your region. Follow these steps to train your child and help him/her quit wetting the bed.

• Before you begin the training process, make it clear to your child that you are trying to help him/her to stop bedwetting and not scolding. You must make sure to listen to him/her when he talks about the problem.

• If you think that the bedwetting is because your child is under stress such as because of a change in home or the family structure, bullying at school, etc, work on the anxiety before chartering a completely new regime.

• Tell your child to exercise his/her pelvic floor muscles by controlling the urge to urinate and increasing the duration between each trip to the toilet.


• Make sure that you avoid offering your child anything to drink at least 1.5 hours before bedtime.

• Try to offer sips of drinks throughout the day and abstain from doing so at night.

• Avoiding putting your child on nappy can help him/her to know when they get wet at night.

• Leave the dim light on at night so your child can easily find his/her way to the toilet or not feel scared.

• Once your child has wet the bed, ask him/her to help you change the sheets and change him/her into dry clothes. This will help your child to be sympathetic and gentle.

The new regime may not really help your child to stop wetting the bed immediately, but you would see the change happening over a period of time. Try to be patient and pull your focus from failure. If nothing works for your child, get support.
Read more articles on Parenting Tips.