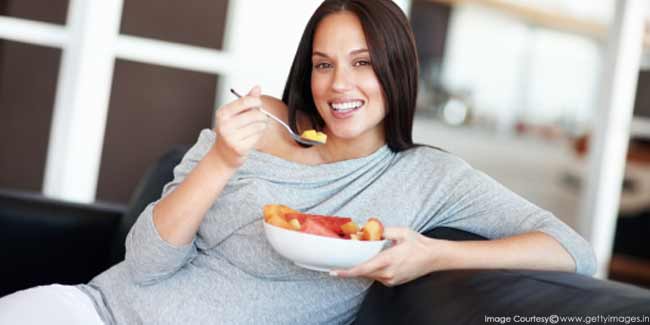 Healthy vegetarian diet during pregnancy must include food that contains adequate amount of protein, calcium and iron among other minerals.
A healthful vegetarian diet during pregnancy must include all the essential nutrients ranging from protein, calcium, iron to vitamins.
Some people believe that vegetarian diet lacks the required nutrition but this is not true. A balanced vegetarian diet is good enough for pregnant women.
Protein needs during Pregnancy
Protein is important for the development of a baby's brain and nervous system. People believe in the common myth that a vegetarian diet during pregnancy lacks the adequate amount of proteins. However, this is not true because there are many options available for vegetarian pregnant women such as soy milk, legumes, bagels and nuts which are good sources of proteins.
[Read: Healthy Diet during First Trimester]
Nutritionists suggest that during pregnancy, the protein requirement of women increases by eleven percent i.e. up to 60 grams per day. However, many health experts claim that 50 grams is more of a realistic target. A balanced and healthy vegetarian diet contains enough protein for women during pregnancy. If your diet includes plenty of lentils, beans, milk, soy, tofu and cheese then you will get the needed protein. But if you are vegan then you need to pay more attention to the protein intake in your diet. Taking only vegetables based diet can cut short on amino acid. Therefore, add pulses and seeds that are rich sources of protein, to the diet. For instance, one serving of chick peas with brown rice could be the perfect source of protein for vegan women.
Calcium during Pregnancy
Vegetarian pregnancy diet must include 1200 mg of calcium per day. It is important for the health of both the mother and the baby. Bones and teeth development of a baby is significantly affected by the calcium intake of its mother. Green leafy vegetables, curd, cheese and milk must be included in vegetarian pregnancy diet as they are excellent sources of calcium.
[Read: Unsafe Foods for Pregnant Women]
It is easy for women who follow the lacto-ovo diet plan to include sufficent amounts of calcium in their diet. However, you need not worry even if you are vegan. Increase the intake of spinach, black beans, almonds and also drink soy milk.
Iron in your Pregnancy Diet
Pregnant women need to consume at least 30 mg of iron on a daily basis. Vegetarian women often have iron deficiencies during pregnancy. This is because iron from plants is just non-heme iron that is sensitive to foods that inhibit its absorption thus making them difficult to absorb. This problem can be taken care of by increasing the intake of iron enhancers such as vitamin C. Since anaemia is a common problem during pregnancy, doctors usually prescribe iron-supplements to pregnant women.
Read more articles on Pregnancy Diet.