Lunchtime is limited at school, most kids are picky and fussy eaters and most important you are not there to ensure that he or she finishes the lunch. Children 5-12 years are growing and physically active. They need healthy meals to meet their energy requirement for growth and activity. Energy and nutrients are needed to help them to concentrate in class and learn as brain functioning is affected by short-term variations in nutrient availability.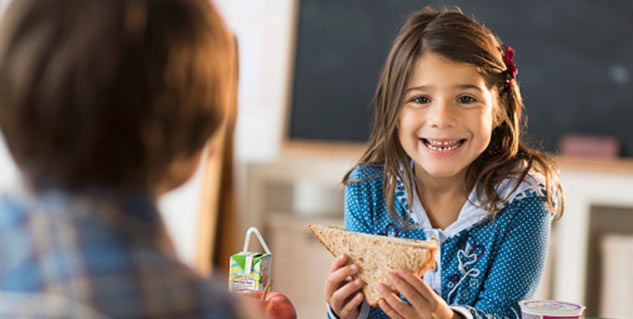 Healthy Packed Lunch Ideas for Kids
Give something that your child likes without affecting the nutrition
Ask what he/she would like for lunch; offer a choice of healthy foods and snacks
Get them involved in planning and preparing healthy meals
Involve your kids in shopping for food and teach your kids to make healthy food choices
Do not give the same thing often, offer variety to avoid boredom or disinterest in lunch
Teach your child healthy eating habits by example
Children are more interested in playing with their friends instead of eating. Your child will be more likely to finish his or her lunch if you pack something they like and the appearance, color, aroma, taste, texture, and seasonings are appealing. Pack something that your child likes without affecting the nutrition. To make the lunch interesting pack a snack such as muffins and cereal bars occasionally.

Your child will definitely need water for school and besides this reduced-fat milk and buttermilk are probably the best kinds of drink to be packed for children in a lunch box. Pack the drinks in bottles that will keep it cool if it is hot you may even freeze them to help keep foods in the lunch box cool. Avoid fizzy drinks.

To ensure that a child's lunch is safe to eat by lunchtime, ensure that your child's lunch is safe for them to eat by lunchtime.
Pack lunch in an insulated lunch box or along with frozen water bottle in the lunch box to keep the lunchbox cool
Store any prepared food to be packed in the lunchbox in the fridge or freezer
If you are packing dairy products, eggs and sliced meats ensure that it is cool in the box, like pack it along with frozen water bottle in the lunch box to keep it cool. Pack these things only if your child is going to eat his or her lunch within about four hours of preparation
Image Source: Getty
Read more articles on Healthy Eating.
For more related articles, Download OnlymyHealth App.