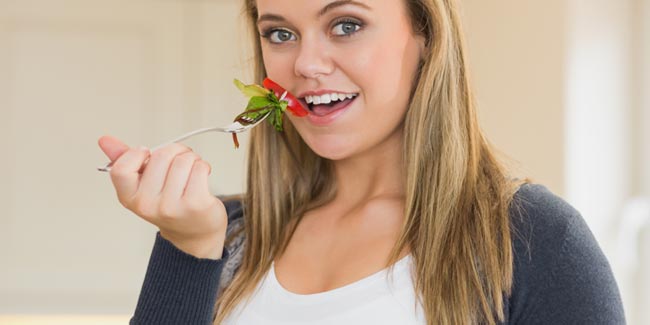 First trimester pregnancy diet should include all those nutrients that are important for the expecting mother and the baby at this stage.
Your baby would develop its vital body organs by the end of first trimester. Brain, lungs and other important growth of your baby would depend on the kind of diet you take in your first trimester. It is actually recommended that you start taking healthy diet before even conceiving.
The problem with having a healthy diet during first trimester is that this is the time when pregnancy complications such as morning sickness and nausea are at their most severe. If you experience nausea and feel like vomiting often, take to small, light meals frequently rather than sticking to heavy meals. Because you are different from other women, your body may react differently to different foods. For example, while some women respond well to foods such as yoghurt, cereals and fruits, others feel that spicy foods make them feel better when taken during bouts of nausea. Spicy foods may be acceptable for temporary relief from morning sickness or nausea but need to be avoided on the whole. It should be a part of daily plan for first trimester diet.
What Healthy Diet during Pregnancy Should Include



A healthy diet during first trimester of pregnancy should include cereals, fruits, nuts, dairy products, green leafy vegetables, soy, lentils and other foods that nourish the body of expectant mothers. These foods regulate the blood pressure and provide the important nutrients to the body. You should ensure that there is a proper balance of iron, calcium, proteins and fibre in the diet.
You also need to watch out for the amount of calories you consume in the first trimester. Always remember that you do need to gain weight during pregnancy and a healthy first trimester diet leading to good health would set the tone for the following trimesters. A general rule of thumb is to increase healthy calorie intake by 200 to 300 calories daily in the diet. If you were healthy before pregnancy, keep it closer to 200 and if underweight, increase intake and make it closer to 300 calories per day.
A distinction between healthy and unhealthy calorie intake is a must. The foods you eat should contain the nutrients that nourish your body and aid in the growth of your baby. Grains, fruits and leafy vegetables, dairy products and proteins should form a part of your daily servings. You also need to watch out for your complications when deciding about what food items you should be adding in your diet. Women who vomit a lot during pregnancy may have to rethink about drinking a lot of water. Consult with your healthcare provider on how to overcome this problem and still stay hydrated with fluids.
Read more articles on Pregnancy Diet.