Welcome to the vibrant street food of India. Tickle your taste buds with this classy tangy bhel puri and make the most of your hunger.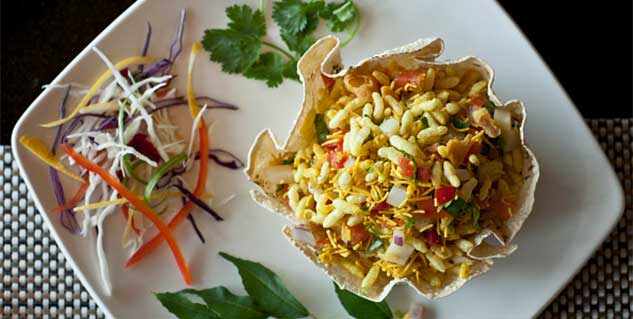 Bhel is an important member of the royal Indian chaat family. It has gained such a huge fan-following that nobody can refuse a platter full of it!
Key Ingredients
2 green chillies (finely chopped)
3 teaspoons of tamarind sauce
1 potato (boiled and cut into pieces)
½ teaspoon of chat masala
A pinch of amchur (mango powder)
Pinch of salt ½ onion (chopped)
This is how you make scrumptious bhel puri
Mix all the ingredients well in a bowl. Serve this Indian time pass with jaljeera to your family in rolled paper cones, when the match is on!
Nutri-check
It is low in fat & highly nutritious. Moreover, you can experiment with the bhel puri by adding potatoes and tamarind sauce, in order to make it tangier! Puffed rice is very light on stomach. It is rich in proteins and Vitamin B.
Image source: Getty