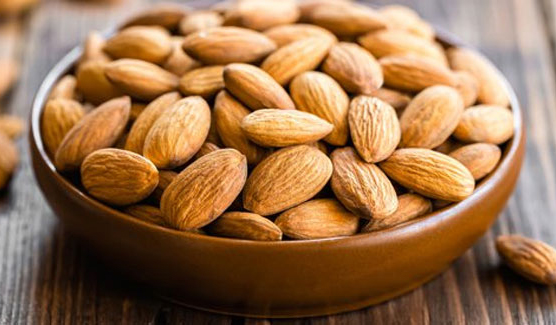 If you love Starbucks' almond croissant blossom, you know that you are actually in love with the healthy and nutritious nut. Learn what you can do on your own to get more almonds in your diet with some mouth-watering snacking options.
We all know that maintaining a healthy lifestyle is one of those essentials in life that we are never able to find time for. With the kind of work and family pressures we keep juggling with through the day, maintaining a healthy lifestyle is more challenging than ever. In a world where striking a balance between work and personal life is the ultimate goal, taking time out for your own self seems to be a luxury we can hardly ever afford!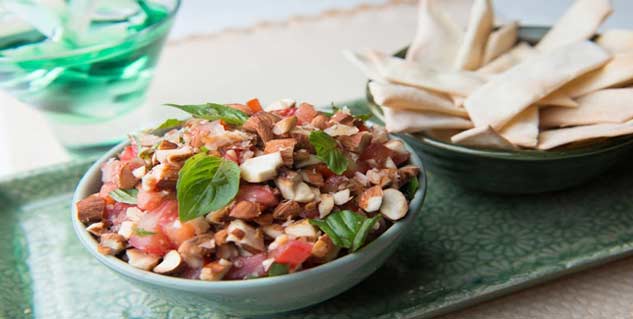 Delhi based nutritionist Ritika Samaddar believes, "going back to the basics is the answer. There are simple modifications one can make in their daily diet which can help a great deal in leading a healthier life. Smart snacking is one such change! A healthy snacking habit, goes a long way in improving your overall health. Almonds can be that perfect snack. They are a rich source of vitamin E, fiber, protein, riboflavin and many other important nutrients."
Almonds are also very easy to incorporate into many of your snack recipes to make them healthier. Here are a few such options that you must try now!
Bhuni shakarkandi aur badam ki chaat

Serves : 2
Preparation Time: 15mins
Cooking time: 20mins
Ingredients
Shakarkandi (boiled & Diced)— 4cups
Almonds (blanched & Sliced) – ½ cup
Salt – ½ tsp
Balck salt – 3/4th tsp
Roasted jeera – 2tsp
Lemon juice – 2 tblspn
Tomato chopped – 1/4th cup
Onion chopped – 1/4th cup
Green chilly chop – 1 no
Green coriander chopped – 2 tblspn
Anar – 1 cup
Method:
Mix all the above ingredients and check for seasoning. Serve cold.
Nutrient analysis

Almond and rice crispy breakfast bars
Serves: 4
Preparation time: 15 minutes
Cooking time: no cooking

Ingredients:
Rice Crispies – 200 g
Dark chocolate – 70 g
Roasted whole almonds – 100 g
Sliced almonds – 50 g
Sunflower/ melon seeds – 50 g
Method:
Temper the chocolate, mix in all the ingredients, put in a rectangle mould and allow it to set.Cut in bars and serve.
Tip: Do not store this in a fridge as it might get soggy and rice crispy could be substituted with granola, wheat flakes, al bran to make a perfect breakfast or a mid meal snack.
Nutrient analysis

Almond and peach relish
Serves: 4
Preparation time: 20 minutes
Cooking time: 25 minutes

Ingredients:
Almonds whole – 400 g
Peach – 350 g
Sugar – 150 g
Cinnamon – 1 no.
Star anise – 1 no.
Fresh red chili – 1 no.
Balsamic Vinegar – 50 ml

Method:
In a clean bowl, soak whole almonds in hot water and keep it for 15minutes.Then remove the skin. On a clean chopping board cut peach in dices and keep it aside. Take fresh red chili, slit it and remove the seeds and keep it aside.In a pan, put grain sugar and caramelize it add whole skinless almonds in it. When it is done add diced peach, cinnamon stick, star anise and slit chili in it and cook further. Add Balsamic vinegar in it and let it reduce. Add the blanched and peeled almonds and let it simmer for 20 minutes.Keep stirring during this time. Remove star anise and cinnamon stick and serve it with crostini, crisp bread, nachos or even toasted bread and enjoy as a beautiful relish.

Tip: after cooling down the relish store in a cool and dry container and store in a refrigerator and could be used for even a month.
Nutrient Analysis

Roasted almond dip with baked namak para
Serves: 4
Preparation time: 10 mins
Cooking time: 20 mins
Ingredients for almond dip:
Almonds roasted & crushed - ½ cup
Tomato chopped - 1 cup
Garlic cloves – 2 no
Sprig Basil – 1 no
Lemon - ½ no
Salt - ½ tsp
Pepper - ½ tsp
Ingredients for Namak Para:
Refined flour - 250 gms
Sugar - 10 gms
Salt - 1 tsp
Olive oil - 20 ml
Water – 150 ml
Method:
For the dip place the tomatoes in a bowl. Crush and then chop the garlic, add to the tomatoes. Finely chop the basil sprig and add to tomatoes with rest of the ingredients. Refrigerate for a while.
Prepare dough with the above ingredients. Give it a rest for 10 mins. Now roll out very thin sheet and bake it in a pre-heated oven at 200c for 10-12 mins.
Remove and break into pieces. Serve with the almond dip.
Nutrient Analysis

Almond & chicken momos (without shell)
Serves: 4
Preparation Time: 15 minutes
Cooking time: 15 minutes

Ingredients:
Chicken mince - 250 grams
Garlic, chopped - 1 tbsp
Carrots, finely chopped - 3 tbsp
Spring onions, finely chopped - 3 tbsp
Ginger, finely chopped - 1 tbsp
Soya sauce - 1 tbsp
Oyster sauce - 1 tbsp
Sesame oil - 1 tsp
Pepper powder - 1 tsp
Egg – 1 no
Blanched & chopped almonds –1/2 cup
Oil - for greasing

Method:
Place the chicken mince in a bowl. Add all the ingredients except almonds and divide it into equal-sized balls.Roll these balls in the blanched and chopped almonds and carefully place these small balls on a greased plate. Get the steamer ready and steam these on high heat for 15 minutes.Remove and serve the momos hot.
Nutrient Analysis

Image Source: Almond Board of California