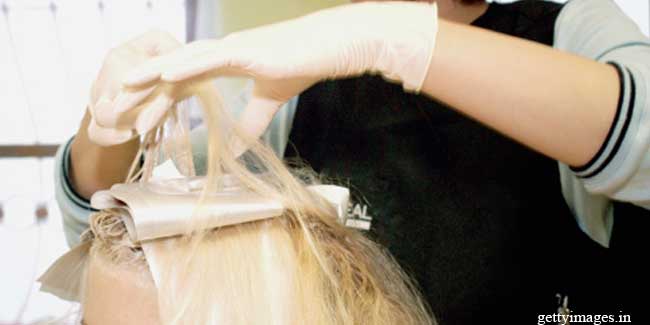 You may have come across something like hair care products being bad for your health. Here's the truth!
Research has proven that, today, there is a high concern that hair dyes cause cancer. The result shows a majority of people in Europe and the United States, who use hair dyes. Out of these, more than one third of women over the age of eighteen and about 10 percent of men over the age of forty use some type of hair dye.

Hair dyes are made with over 5,000 different chemicals of which some are even reported to be cancer causing or bring about carcinogenic in animals. Since many people use these hair dyes, various researchers have tried to determine whether exposure to the chemicals in hair colouring products is associated with an increased risk of cancer in people or not.

A relationship has been found between the personal use of hair dyes and the risk of NHL. This study showed that women who began using hair dye before 1980 had a slightly (about 30 percent) increased risk of NHL as compared with the women who had never used it.

As the researchers analyzed in detail the risks of the many NHL subtypes, they found out that the hair dye users had increased risks of both follicular lymphoma and chronic lymphocytic leukaemia/small lymphocytic lymphoma.

Apart from hair dyes being connected with diseases such as leukaemia, the use of personal hair dye is also linked with the risk of bladder cancer; though the research on personal hair dye use leading to a risk of bladder cancer has formed differing results.

While an analysis of the data pooled from twelve studies of personal hair dye use found no evidence of an increased risk of bladder cancer, a research on the use of permanent hair dyes has given a conflicting result. Furthermore, some recent studies reported an increased risk of bladder cancer that is associated with the use of these permanent hair dyes.

Studies that have shown that professional hairdressers have an increased risk of bladder cancer show the chances of the development of bladder cancer due to occupational exposure to hair dye.

As far as evidence to hair dye being the cause of other cancers is concerned, researchers reviewed data from fourteen studies of female breast cancer and hair dye use that were published between 1977 and 2002 and found out that dye users had no increase in the risk of breast cancer compared with non-users.

Another point that must be noted is that research on hair dye use and the risks of other cancers has been limited. Although, some studies have shown associations between hair dye use and the risk of developing or dying from specific cancers, these associations have not been seen in other studies on the same topic. Due to these differences in the study design, it has not been made possible to collect the results of these studies of most cancer types to increase the power to detect associations with the hair dye use.
Read more articles on Hair Care.