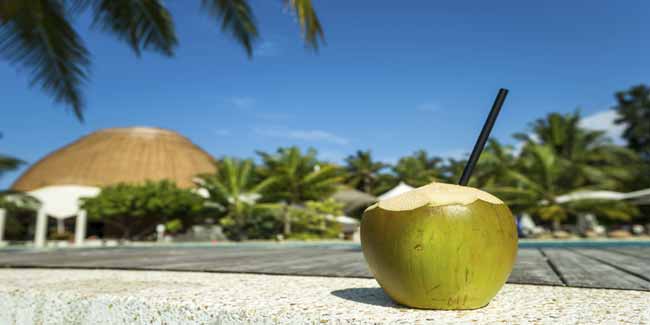 Coconut water is much sought after these days and why not? After all, it is a delightful drink that hydrates you, here are some health benefits attached to it.
During those hot summer months when you drink up coconut water to feel fresh and fine you do not tend to realise that coconut water is not just quenching your thirst. It does much more.

Coconut water is low in calories, naturally fat, and cholesterol free. With more potassium that four bananas together, coconut water makes up for most of your nutritional deficiencies. To top all of this, coconut water is very hydrating, and is a super energy drink. Thanks to its qualities, you can now avoid all sorts of energy drinks that contain high levels of caffeine. Coconut water will give you an enormous energy boost at 50 calories per cup.

Anti-Ageing
Coconut water contains what is known as cytokines and lauric acid, these are two important elements which are used in the cell growth process and regulation. Coconut water has significant anti-ageing, anti-carcinogenic and anti-thrombotic properties that can help you to minimize the effects of skin ageing. Further, it also balances PH levels and keeps the connected tissue hydrated and strong.

Metabolic Rate
By consuming coconut water every day you are increasing your metabolism rate which actually helps to burn sugar a lot faster. Therefore, regular consumption of coconut water is actually good for you. By drinking every day the levels of insulin in the body burns faster and the person has more energy and loses fat much faster.


Cardiovascular Health
The water from coconut is rich in magnesium and potassium and is therefore helpful for people who suffer from low blood pressure, and reduces the risk of heart attacks. By drinking coconut water you regulate the blood circulation and prevent the formation of plaque, it contributes to your health and prevents heart strokes. Furthermore, coconut water helps to increase the good cholesterol making it a good treatment for maintaining good cardiovascular health.
Digestion
Coconut water contains bioactive enzymes such as folic acid, phosphatase, catalase, dehydrogenase, diastase, peroxidase, and RNA polymerases. These enzymes are exceptionally good for your digestive system, allowing easy digestion and metabolism. The coconut water that you drink has more minerals like calcium, manganese and zinc than some fruits like oranges. Also it is a good source of Vitamin B such as riboflavin, thiamine, pyridoxine and folates, these are required by the human body from external sources to replenish and hence it becomes very essential.

Weight Loss
The water procured from coconut is time and again proven to be very effective for weight loss, and so this drink has been found to be one of the healthiest ways to lose weight as it is a natural drink and contains no chemicals. Coconut water has been used over the world for weight loss and has also successfully shown positive results.

Moreover, coconut water is very good for the hair and skin, and so you have all reasons to use water from a coconut for all the various health benefits. Above all it is a great thirst quencher that can be far better than fruits juices and other such drinks.

Read more articles on Healthy Eating