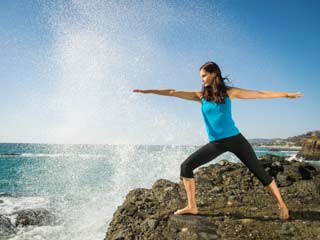 A new study has suggested that Hatha yoga can boost the boost the functioning of the brain in older adults besides fighting stress and giving relaxation.
Most of us look up to yoga for achieving inner peace and fight stress from life. A recent study has suggested that hatha yoga can not only relax you but it can also boost brain function in older adults.

The study was conducted on 108 adults who were aged between 55 and 79 and 61 amongst them had attended hatha yoga classes. The remaining attended the same number and length of sessions in stretching and toning exercises but not yoga.

The participants attended the respective classes for 8 weeks at the end of which the group that had performed yoga three times a week showed better results in cognitive tests than the results they had before the start of yoga classes.

The participants who attended stretching and toning classes showed no prominent changes in their cognitive test results over time. Also, according to the researchers the difference in results had nothing to do with the age, gender, or social status, of the participants.

Neha Gothe, the lead author of the study with professor Edward McAuley at the University of Illinois said in a press release, "Hatha yoga requires focused effort in moving through the poses, controlling the body and breathing at a steady rate. It is possible that this focus on one's body, mind and breath during yoga practice may have generalized to situations outside of the yoga classes, resulting in an improved ability to sustain attention."

It was noticed by Professor McAuley that the participants who performed yoga showed significant improvements in working memory capacity. He said "they were also able to perform the task at hand quickly and accurately, without getting distracted. These mental functions are relevant to our everyday functioning, as we multitask and plan our day-to-day activities."
Image courtesy: Getty Images
News source: huffingtonpost.com
Read more Health News.